ezyCollect automatically and effectively chases late payments, leaving you to get on with running your business. Automate your entire debt collection process with a programmed series of emails, letters, prompted phone calls all the way to a solicitor's letter.
ezyCollect's AR automation platform will chase all your unpaid and overdue invoices for you – our clients typically see a 40% reduction in outstanding overdues within the first four months.
Increase your cash flow, free your time from the minutiae of AR – it's like having an extra person in your team, one who never sleeps!
ezyCollect Introduction Video
The benefits of ezyCollect
Save time and money
We chase up payments, so you don't have to. Our all in one system combines statements, invoices and demand letters.
Integrated Payments
Use our integrated payment gateway and insert a link in all your reminders to get paid even faster.
Blended Approach
Tailor your follow-up strategy for every customer. Customise everything – including scheduling phone calls and automating tasks such as email and SMS reminders.
Get your money, faster
Our software has been proven to get your customers to pay their invoices faster.
Stay on top of every AR task
View a complete history of communications, notes and disputes
Receive a daily list of collection calls to complete
Monitor credit risks in real-time and take action
Send a demand letter or go legal
Control which debtors and invoices to chase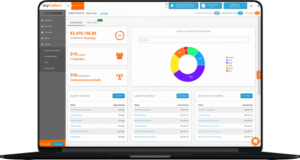 ezyCollect works to slash your overdue debtors in weeks
All plans include:
Seamless integration with MYOB EXO
Automated collections workflows and reminders
Consolidated reminders
Single-slick credit checks
Integrated payment gateway
On-demand legal letters
Credit reporting dashboard and analytics
Dynamic filters for data reporting
Communications tracking and reporting
Auto-attach invoices and statements
Automated thank-you notes
Automated debt escalation
Automated scheduling of statements
Automated legal escalation
Automated postal mail
Trusted by Momentum Customers
"ezyCollect saves me so much time, I couldn't do my job without it. With the help of ezyCollect we have people paying earlier". Jacinta Halliday, Accounts Manager – Mont Marte International
"ezyCollects SimplyPaid feature has provided a 'win/win' for our business and our customers – it has helped us to streamline our finance processes, whilst creating a quick and easy way for our customers to pay". Eric Sengstock, CFO – ATP Science
Reclaim your scarcest resources, time and money. Automate your accounts receivables and help your customers pay you instantly.