MYOB Exo
ERP Systems to help you see the bigger picture
Providing greater insight into all facets of your operations, along with more control and solutions that have the flexibility to grow with your business, MYOB Exo Business and MYOB Exo Employer Services can help build your business like never before.
MYOB Exo provides the flexibility to build an entire business management solution that meets all of your individual business needs. Here's how:
Easy accounting and GL functions
Multiple locations / divisions / branches support
Management dashboards
Fully integrated Customer Relationship Management (CRM)
Advanced stock and foreign currency management
Extensive landed cost and shipment tracking
Integrated job and project costing functionality
Payroll, time and attendance and human resource management
Consolidation of financial transactions for all entries
Comprehensive and customisable accounting process flows and corresponding checklists
EXO gives us confidence in the integrity of our data across the entire business – and the reassurance that costs are accurate, up to the minute – and wholly reliable. That is something we never had before

Haynes Mechanical
Ready to Grow? Learn more about MYOB Exo.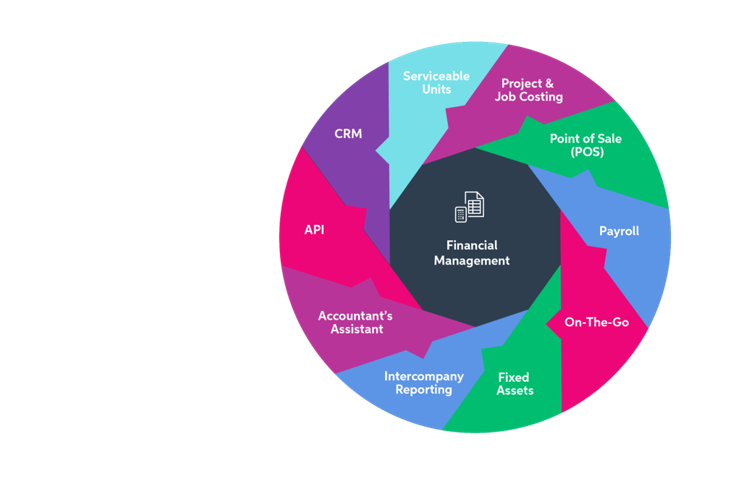 A connected business with MYOB Exo
Flexible and customisable business management solution. ​
More than an accounting solution.​
A complete view of the business ​
A system that grows with your business​
APIs to connect to a long list of certified Add-on partners ​
Fully integrated with Exo Employer Services – supports all HR requirements.​
Software Solution Options
More complex business needs?
You need MYOB Exo
MYOB EXO is a fully integrated and customisable on premise ERP system designed specifically for medium and larger businesses. Providing greater insight into all facets of your operations, along with more control and solutions that have the flexibility to grow with your business, MYOB EXO Business and MYOB EXO Employer Services can help take your business to the next level.
Greater Insight
View and analyse inventory management, project costings, HR, Payroll and every other aspect of your entire operation, for a genuine, detailed snapshot of your business. Better insight leads to better decisions.
Ultimate Flexibility
When your business grows or diversifies you need solutions with the functionality to integrate seamlessly with existing systems. Solutions that grow with you, not slow you down.
More Control
Imagine being able to view status, job cost and profitability in real time. MYOB Exo gives you reporting and information at your fingertips, better enabling your business to plan more accurately.
Significant savings
One of the keys to growing any business is continuing to grow the bottom line. It's all about turning greater profits into greater opportunities using our ERP systems.
Manage your payroll
A standalone Payroll Management solution which can processing up to 2,000 pays at a time and automatically allocate relevant taxes, accrue leave, sickness and other entitlements.
Empower your workforce
Give your staff the ability to login anywhere to view and update their own secure personal information and details, with all the information stored securely online.
Advanced payroll reporting
Exo Payroll includes a range of standard reporting functions that can track staff costs and unearth staff insights. If there's not a specific report you need, use the in-built customisable report writing tool to create it.
Add functionality
As your business grows, we can support your journey. From streamlining HR Management to implementing health and safety, our ERP systems have additional solutions to meet your changing needs.
Integration Options
Suite of
Integrated Modules
MYOB EXO's suite of integrated modules support a range of business facets, including finance and accounting, sales and customer management, job and project costing, inventory and stock control, point of sale, payroll, fixed assets and much more.
MYOB Exo Additional Resources