MYOB Advanced Business 2022.2 is the next major update which introduces 360+ exciting new features that enhance the overall user experience, and adds additional functionality to a wealth of existing features.
We encourage you to view the full release notes and the major release highlight document below for detailed information on the new features and enhancements available in the Autumn release.
MYOB Advanced 2022.2 Release Notes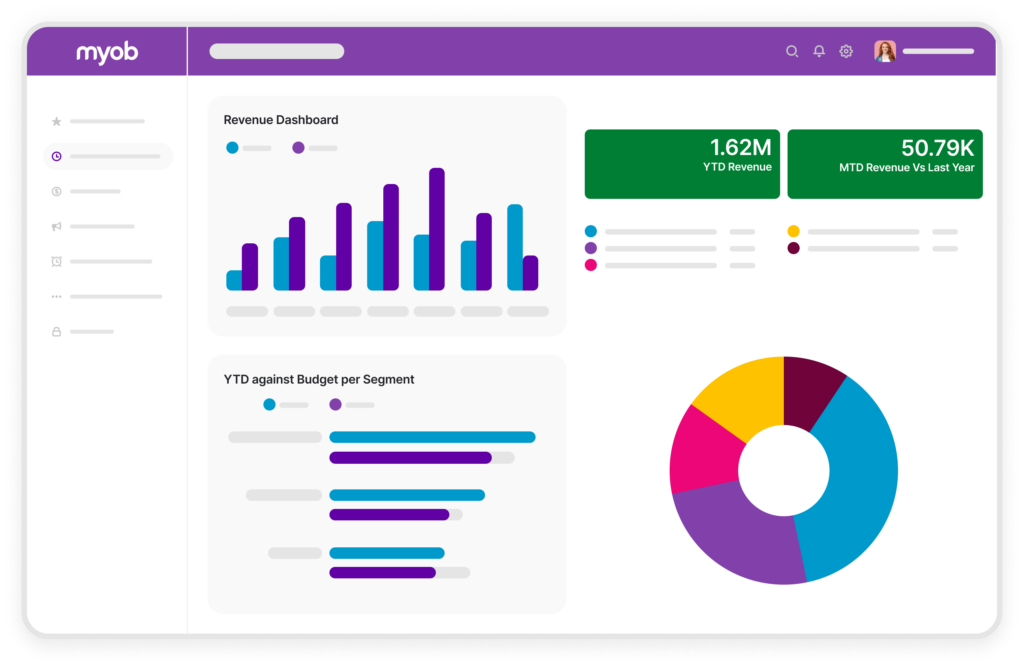 MYOB Advanced Autumn Release Fact Sheets
Check out the MYOB Product Release fact sheets below which cover all the key updates included in the 2023 MYOB Advanced Autumn Release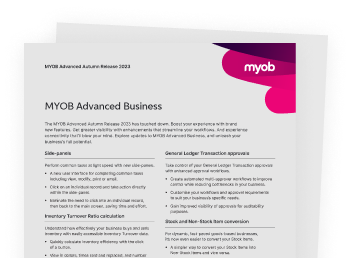 MYOB Advanced Business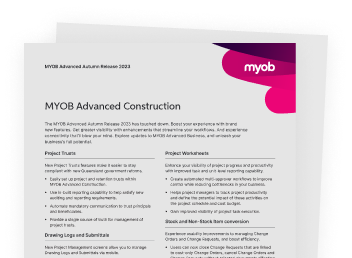 MYOB Advanced Construction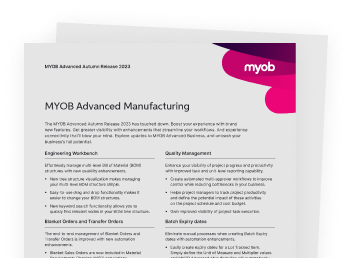 MYOB Advanced Manufacturing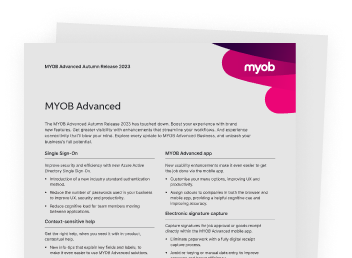 MYOB Advanced Platform
MYOB Advanced Payroll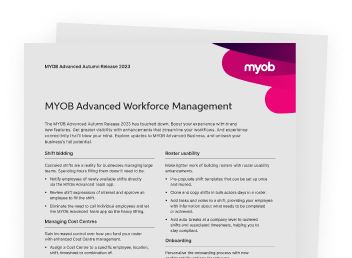 MYOB Advanced WFM

Watch On-demand: MYOB Advanced 2022.2 Autumn Release Showcase
Missed the MYOB Advanced Autumn Major Release product showcase? Watch the recording now to discover some of the 360+ new features and enhancements coming soon to MYOB Advanced Business, MYOB Advanced Payroll and MYOB Advanced Workforce Management.
Top new features
There are so many great improvements in the 2022.2 release, but below are five key new features which we think you'll love.
For a comprehensive list of new features, see the full release notes.
Single sign-on (SSO) with Microsoft Azure AD
You can now provide single sign-on (SSO) and manage user access in one place by integrating MYOB Advanced with Microsoft Azure Active Directory (Azure AD). For detailed steps on setting up Azure AD, see MYOB's online help pages.
Finance – Approval GL Transactions
Starting in 2022.2, MYOB Advanced makes it possible to release and post GL transactions only after they have been approved by an authorised employee. On the Approval Maps Form, a new Entity Type has been added.
Manufacturing – New Engineering Workbench
In MYOB Advanced Manufacturing Edition 2022.2, a manufacturing engineer can view, create, and modify a multilevel bill of material displayed in a tree structure by using the new Engineering Workbench (AM208100) form. This is useful when for creating and modifying bills of material with subassemblies.
Inventory and Order Management – Side Panels
In MYOB Advanced 2022.2, a side panel has been added to various lists of records and data entry forms related to the inventory and order management functionality, which gives a user the ability to view the list of records while simultaneously viewing (and modifying, if necessary) various information related to any listed record or opened entity on a data entry form. Check the release notes for the full list of screens where side-panels have been added.
Construction – Tracking Project Progress by Unit
This release adds the functionality to track project productivity. With this new functionality, employees working on a construction site can capture project activities on the unit level and track project progress by using a new type of document: progress worksheets. In the daily field report, a user can add cost budget lines and capture units used on the construction site during the working day. This functionality helps project managers to track project productivity and define the potential impact of these activities on the project schedule and cost budget.
MYOB Advanced 2022.2 Major Release Info
Don't forget to download the full release notes and major upgrade highlights to learn more about the exciting 360+ new features and enhancements coming soon to the Advanced Platform.