Momentum Reconciliations – Purchase Clearing is designed to provide an understanding of the goods inwards process i.e. purchase orders through to inwards receipts, costings and finally matching to creditors invoices.
Reconciling the Purchase Clearing Control Account is traditionally one of the most difficult accounts to reconcile in Exo with many transaction sources, as well as user errors making it difficult to understand whether the movement in the General Ledger matches the movement in the Purchases Sub Ledger.
Momentum Reconciliations – Purchase Clearing makes this reconciliation easier by outlining the movements in the Purchases Sub Ledger, as well as the movements in the Purchases Clearing General Ledger, and explaining by how much these amounts differ and likely reasons why these amounts vary. Each reason type has its own sub report providing the detail that makes up the balance, giving you the transactions that are out of place.
Key features:
High level reconciliation of movements in the Purchasing Sub Ledger to movements in the Purchases Clearing account in the General Ledger
Provides information why reconciling items exist
Review detailed report information on screen or export to Excel
Useful for any business trading in stock
Choose the date range for the report
Suitable for businesses that trade in stock, either through the functions in Exo Business and/or Job Costing.
Note: this report is only suitable to businesses that use the Inwards Goods methodology to receive stock. If you exclusively use the "Inw Receipt" button (see highlighted green below) to receive purchase ordered items, then this report is suitable for you.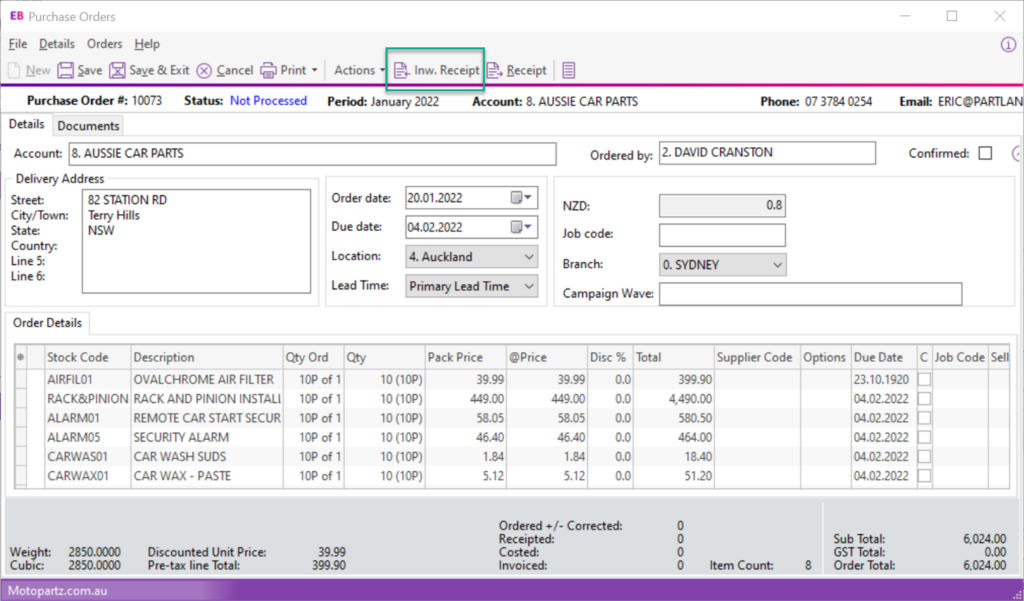 Download Factsheet