The all-in-one construction management software built to help you finish quality projects—safely, on time, and within budget.
Procore is an Independent Software Vendor (ISV) that integrates with the MYOB Advanced Construction Edition to extend your construction business capabilities. The power of MYOB Advanced Construction Edition with Procore gives you the ability to seamlessly share your accounting and project data between your office and field to make the strategic decisions to move projects and your business forward. This includes easily exporting and synchronizing records between MYOB Advanced and Procore for your customers, vendors, projects, cost codes and more.
Through this synchronization process, you can seamlessly update Procore fields with changes to those corresponding fields in MYOB Advanced. The sync feature works across all records exported from MYOB Advanced to Procore or linked between the two systems.
The integration between the two cloud-based platforms provides:
Automated and synchronized data between MYOB Advanced Construction Edition and Procore
Elimination of manual processes
Seamless workflows
Standardized, streamlined processes and procedures
Updated RFIs, change orders and project issues
And more
Key benefits include:
View projects in real time
Increase field and office collaboration
Save time
Streamline approval processes for tasks such as subcontracts and purchase orders
Eliminate costly errors
Reduce double entry to allow your project teams to make more accurate, informed decisions
Here's a breakdown of the data between Procore and MYOB Advanced Construction Edition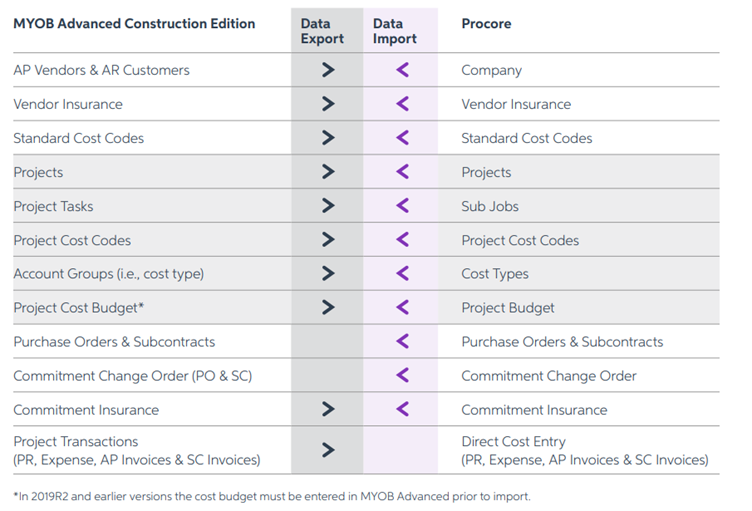 Download Fact Sheet below for more information: