In an effort to increase profitability, businesses are continuously seeking ways to find more cost-effective methods of doing business. One way to achieve this is to digitally transform your accounts payable process. Accounts payable staff are often inundated with a significant amount of work, spending more time handling paper invoices, validating details and chasing approvals than doing anything else.
Introducing Dataline!
Dataline is an add-on solution that integrates with MYOB Advanced and MYOB Exo which automates your accounts payable process allowing employees to redirect efforts towards higher value tasks. With over 30 years of delivering innovative accounts payable solutions to growing businesses, Dataline's deep knowledge of accounts payable processes and workflow automation gives customers a payables advantage.
Dataline manages your data entry, PO matching and approval workflows with a range of payables solutions to help you more effectively run your business including:
Accounts Payable Automation
Automated invoice capture, 3 way matching and approval workflows that link with your MYOB and other accounting systems.
Working Capital Solutions
Payables workflow that helps you offer your suppliers early payment for discount without using your working capital.
MICR Cheque Solutions
Cheque printing software providing you with secure and reliable MICR printers, MICR toner and MICR services.
Payments Management
Software and services that manage your critical financial transactions ensuring your cash flows are fast, efficient and automatic.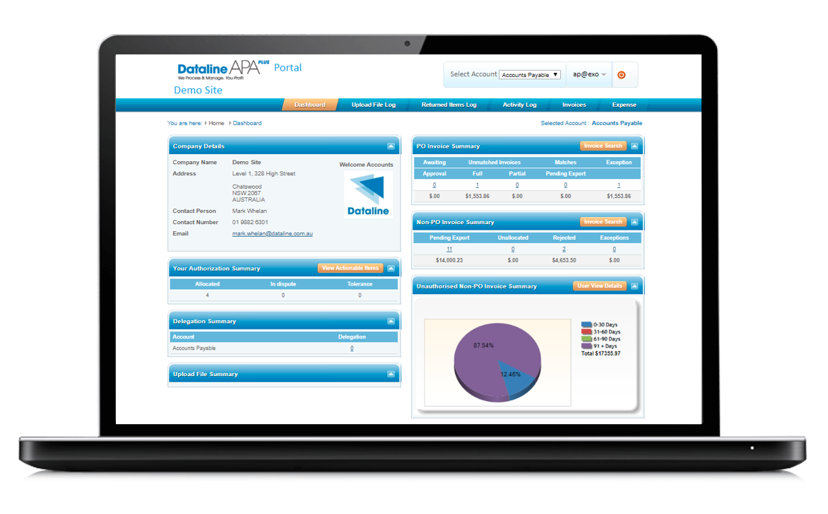 Dataline's accounts payable automation solution is a unique system for MYOB users that provides immediate cost and productivity benefits, without the need for major investment in hardware or software.
Invoice Capture
Automate your supplier invoices to be emailed to the Dataline system and their smart software backed by their bureau staff will ensure accurate straight through processing.
Invoice Approval
Connected to your accounting system, invoices are matched to purchase orders and customised workflows send emails seeking approval to review invoices on the Dataline secure platform.
Invoice Ready for Payment
Invoices posted for payment in your accounting system, invoices securely stored for fast search retrieval or use the platform to generate discount offers to suppliers for early payment.
Dataline's APA+ provides you with advanced workflows that are guaranteed to improve your accounts payable processes. On top of that other benefits include:
No more data entry
Automate the email of your invoices and the Dataline software will extract the invoice data that syncs to your accounting system.
Data Accuracy
Other systems make you manage data validation, with APA+ Dataline manage validation to ensure you achieve straight through processing.
Manage Duplicates
Intelligent software that recognises invoice duplicates stopping the process of double payments.
Automated Processing
Smart software that supports GL codes and matches invoice to purchase orders and receipted goods.
Approval Workflows
Based on your business rules, decision makers are notified via email to approve invoices online providing 24/7 access
No more sorting or filing
Invoices are automatically archived providing you with fast search retrieval and a complete audit trail.
In today's competitive business environment time is money, don't waste anymore time on routine accounts payable procedures. Fund your business growth through fast, efficient accounts payable automation.
Interested in learning more about Dataline? Visit Datalines website here or get in contact with us today.