Modern cloud construction and accounting software connect field, service and admin teams with modules designed to exchange data in one cohesive solution. Implementing cloud construction and accounting software, like MYOB Advanced sets your business up for complete digital transformation. Here are just some of the way cloud software can transform your construction business.
Connect all aspects of your business to drive profitable growth
It is quite common for construction businesses to use multiple legacy systems in tandem with their main accounting system. These systems are often not very well integrated or not integrated at all and employees waste valuable time jumping between legacy systems to perform routine tasks.
Although spreadsheets and certain applications may be well suited to individual tasks, they generate silos of data that aren't unified, making it difficult to see what's happening across all projects day-to-day. Non-centralised processes and communication silos also cause difficulties accessing reliable information.
With the MYOB Advanced Construction Edition, contractors can connect all aspects of their business. Including sales, inventory, materials management, project management, finance, payroll plus more. As a single source of truth, data can be easily shared between teams, integrating and connecting all aspects of your business, easing headaches and driving profitable growth.
Manage cash flow more effectively
The importance of steady fund income is crucial in construction projects. Having your finger on the pulse of your cash flow is vital to keeping projects flowing. Cash flow is one of the biggest challenges facing many small construction businesses. Between underbilling's, tax surprises, retentions, payroll and supplier payments, it can be difficult to keep cash flow positive.
Cloud construction software allows your business to respond in real time as business conditions change. When you connect your accounting and project management teams in the cloud you give your team real-time views into expenses versus budget. This allows project managers to track all aspects of a project including active and completed tasks time by employees and project profitability.
Establish tighter project controls
When systems are disconnected, business processes can become more complex. Pulling reports from multiple systems to collate them into one report is a time-consuming process that leaves you vulnerable to errors. Cloud ERP construction software gives you total visibility across your entire business. Real-time dashboards enable you to keep projects on track and budget with accessibility from anywhere, anytime. Accurate data is therefore available consistently across your business which allows you to gain the visibility you need to run your construction business smoothly.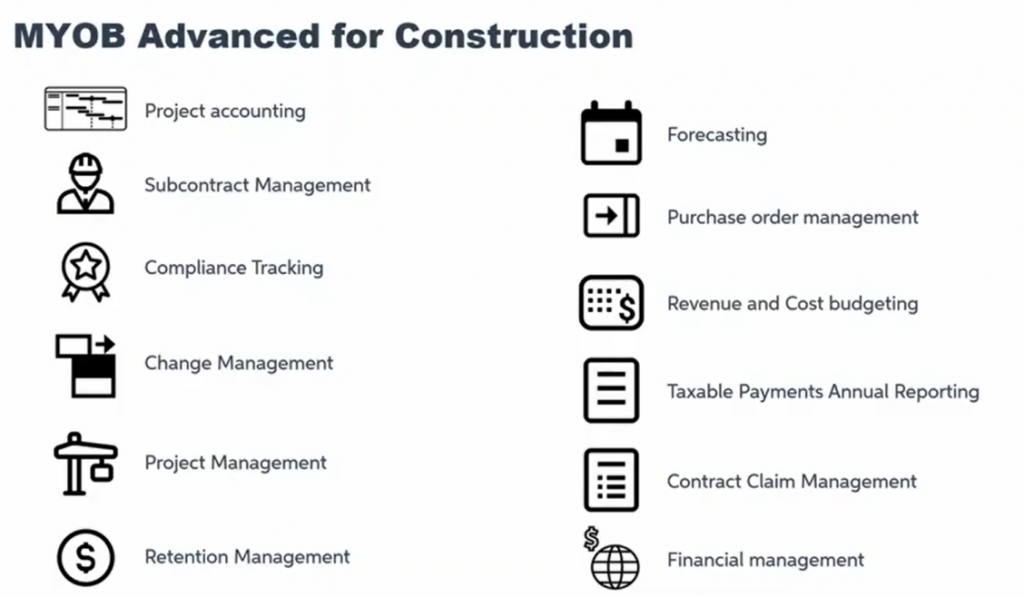 Enable remote connectivity
Today, cloud construction and accounting software can enhance the flow of information between your teams in the office and out on jobsites. Contractors without cloud-based technology are overloaded with inefficient, paper-based processes that are time-consuming and cumbersome.
With the MYOB Advanced Construction Edition changes made in the mobile app to items such as RFI's, project issues and timecards are updated and synced automatically. Cloud construction software can also proactively alert your team of any issues and enable effective collaboration. Taking on-site intelligence to the next level, project managers can build a complete history of their project with photo logs capturing day to day, providing added insight into progress on site. By enabling the field and office teams to access the same information at the same time, they can prevent delays and address important issues immediately.
Integrate your teams and streamline your workflows
Many subcontractors track and source their suppliers and equipment using a collection of disparate application, spreadsheets, documents and PDF files all stored in different locations. Such disparate systems make it difficult to gain visibility into materials status and maintain an accurate, real-time view of progress.
Today, MYOB cloud construction software connects your teams in the office and out on jobsites creating a streamlined, integrated flow of information. Real-time synchronisation in the cloud ensures that no matter where you are, data will be seen and reported on throughout your organisation. All your teams can than respond more quickly and efficiently to needs. Managers can therefore make faster, smarter decisions and allows employees to effectively collaborate in a more productive and agile way.
Want to take your construction business to the next level?
Learn more about the MYOB Advanced Construction Edition here or get in contact with us now for more information and a demo.