Acumatica, the leading cloud ERP solution MYOB Advanced Business is built on has been ranked number 1 for usability by G2. G2 is one of the largest and most trusted software marketplaces. 60 million people annually – including employees a all Fortune 500 companies use G2 to make smarter decisions based on authentic peer reviews.
G2 has reviewed Acumatica and 33 other mid-market ERP systems across the world, ranking them on their usability based on customer feedback. Acumatica has received top points in G2's Summer report with a usability score of 88% (11 percentage points above the average score) and has been awarded the Best Cloud ERP Software Usability badge.
G2's usability score is make up of scores from four categories:
ease of use
ease of administration
meets requirements and
average user adoption
This usability index report by G2 reveals that Acumatica customers consider Acumatica an easy-to-use ERP solution that more than meets their requirements. This is a fantastic testament to the functionality and design of the Acumatica platform and is a great recognition for MYOB Advanced Business, the ANZ localised platform of Acumatica.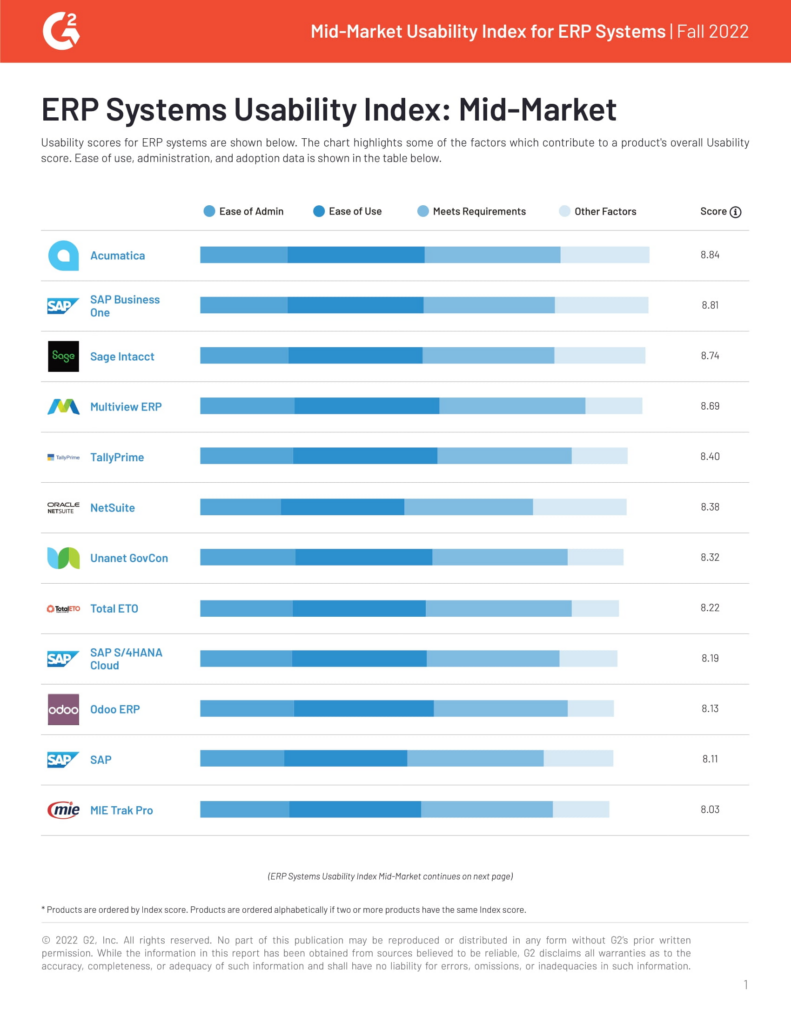 See G2's latest Mid-Market Usability Index for ERP System report here.
MYOB Advanced Business is built on top of Acumatica, a world-class cloud ERP solution. MYOB Advanced leverages the robust architecture of Acumatica but is tailored to local business processes and regulations. Australian and New Zealand businesses using MYOB Advanced Business get to enjoy local support and comply with local business regulations. Explore more of capabilities within the powerful MYOB Advanced Business platform here.