Looking for an integrated HR information system (HRIS) to help your organisation manage its people, process and pay?
From improving employee engagement to increasing efficiencies and reducing costs, ELMO integrated cloud-based platform has you covered.
ELMO offers a comprehensive suite of cloud HR, payroll and rostering / time & attendance software solutions that can be configured however your organisation requires, and these are available within a single dashboard and single user interface. ELMO can help your organisation streamline your HR & payroll processes to increase productivity, efficiency and reduce costs.
Features
Payroll – Seamless cloud-based payroll and HR solution
HR Core – Centralise and automate your people management
Recruitment – Attract, engage and select the world's best talent
Onboarding – Start your new employee's journey with a personalised onboarding experience
Performance Management – Maximise employee performance and potential
Learning Management – Configurable to suit your organisation's unique requirements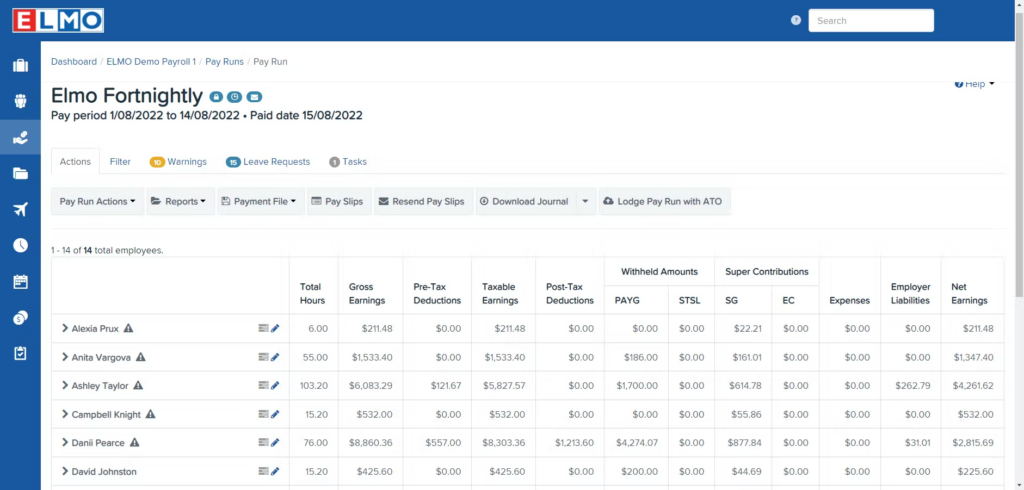 How can ELMO help me?
ELMO Software is a cloud-based solution that helps thousands of organisations across Australia, New Zealand and the United Kingdom to effectively manage their people, process and pay.
One vendor, one dashboard, one user-experience
ELMO's suite of cloud-based solutions can be used together or stand-alone, and are configurable to an organisation's unique processes and workflows. No matter which combination of modules your organisation chooses, you'll get a consistent user experience through a single dashboard where you can access any combination of modules at your fingertips – from one vendor.
End-to-end solutions, from hire to retire
ELMO offers modules which cover the entire employee lifecycle across the 5 key touchpoints that an employer will have with an employee: pay, engage, hire, retain and develop – from "hire to retire". Offering an integrated suite means seamless connections and data flows between any combination of solutions, creating transparent reporting and a richer insight into each employee's experience with you.
Single source of truth
Rather than maintaining versions of the same data in disparate systems, forward-looking organisations are integrating core business systems and thereby creating a single source of information that is up-to-date and used across the organisation. Doing this with people-related data using ELMO Software helps to maintain accuracy, consistency and visibility, while ensuring seamless talent management throughout the employee lifecycle.
100% Australian owned, 100% AU and NZ operated
ELMO were born in Australia and their focus remains on the local Australia and New Zealand market, with both support and development exclusively located in these markets. ELMO have deep knowledge and understanding of the Australian and New Zealand marketplace which enables then to meet the specific demands of the local market.
Cloud-based, multi-tenant, multi-device
Why opt for a cloud-based solution like ELMO?
Faster deployment and time-to-value
Any time, anywhere access – accessible on any device
Scales easily as your organisation changes
Timely and efficient upgrades – no need for maintenance as you get real-time access to the latest version on the cloud