A seamless Takeoff and Estimating Solution with single click integration to MYOB project management for progress billing and budget controls.
ProEst is an Independent Software Vendor (ISV) which integrates with the MYOB Advanced Construction Edition. As a powerful cloud-based estimating platform, ProEst streamlines and simplifies the entire pre-construction process, offering contractors a faster, easier way to access, modify, manage and share crucial project information. It is a construction estimating solution that offers automated features for construction companies of all sizes. The ProEst platform combines cost estimating, digital takeoffs, bid day analysis, reporting and other functionality in a single solution— helping contractors of all sizes to reduce infrastructure costs, dramatically improve estimating accuracy and streamline pre-construction workflow.
Using MYOB Advanced Construction Edition and ProEst together streamlines project workflow in a whole new way – accelerating estimate production, enhancing accounting visibility, and providing real-time data access that boosts your bottom line.
With MYOB Advanced Construction Edition and ProEst integration, your people can connect and collaborate with ease. Multiple users can synchronise and share project data anytime, anywhere and can work together wherever they are – in the office or the field. That means even the smallest details in project reports, cost codes, supplier inputs and customer data wont be missed or overlooked, and you can be sure your information is always accurate and up to date.
How the integration of ProEst and MYOB Advanced Construction Edition works: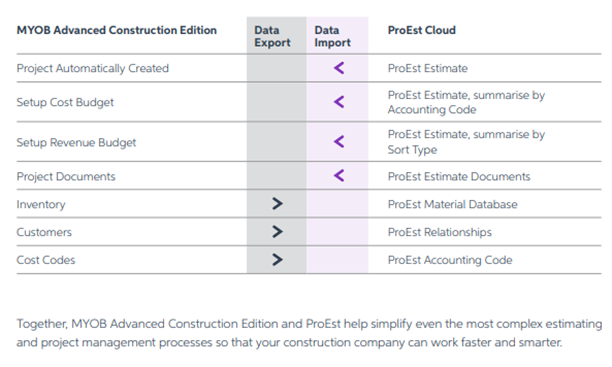 Key benefits
Save time
Automate project setup in MYOB Advanced just once with the need to re-enter data
Enable collaboration
Create complete project visibility for every team member, from the initial estimate to the end of the project lifecycle
Eliminate errors
Work with accurate, consistent, and up-to-date estimate data created automatically in MYOB Advanced.
A cloud, end-to-end estimating and construction accounting solutions can put you in control of your construction projects from start to finish. Give your construction company an edge with MYOB Advanced Construction Edition and ProEst integration. Enter project data just once, and MYOB Advanced Construction Edition and ProEst will do the rest, streamlining workflow and ensuring accuracy in every phase of the project lifecycle.
Together, MYOB Advanced Construction Edition and ProEst help simplify even the most complex estimating and project management processes so that your construction company can work faster and smarter.
Download the MYOB Advanced Construction and ProEst Fact Sheet below: