Wageloch is a simple, single platform which automates all your rostering, staffing, time and attendance tasks
Wageloch Solutions
Wageloch takes all your HR, rostering, time and attendance tasks online. So it's easy to take care of business anywhere, any time, on any device – desktop, web or mobile. With integration with MYOB Advanced, MYOB Exo & Employment Hero, the Wageloch solution includes:
Custom Onboarding
Rostering Software
Electronic Timesheets
Time & Attendance
Clocking Devices
HR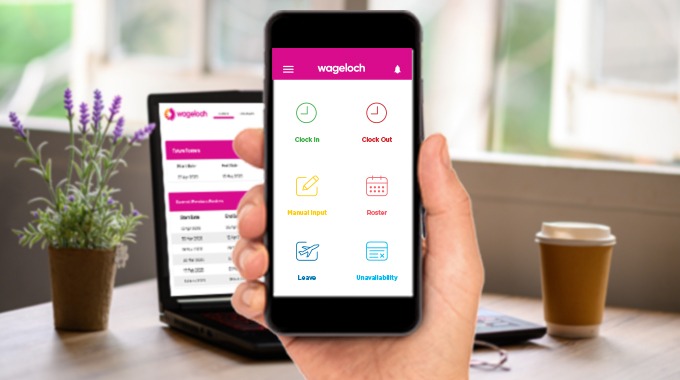 Benefits of Wageloch
Reliable reporting and auditing
Enjoy simple custom reports. Easily check staff rostering across sites to avoid duplication. And keep an eye on staff numbers and shift costs for every employee, in real time. You can even track sales to wage percentages, and file everything in the cloud to save space and be ready for fair work audits.
Better control
Match your award rules and pay rates. Instantly view shift and roster costs as you go – and check timesheet calculations before it's sent to payroll. And by comparing clock and rostered times on a single screen, its a breeze to plan pay. In just a few clicks, you can create clear and concise reports on wage costs, as well as hours rostered and working in each pay cycle.
Super savings
Spend less time on timesheets, rostering, data entry, awards and payroll reports. And easily manage budgeting, penalties, overtime and job costing. Wageloch's Management Web Portal keeps you across multiple work sites and KPI data in an instant, while the employee rostering and timesheet portal and app, eliminates back-and-forth.
Simple and seamless
Say goodbye to tricky tech, Wageloch is as easy as it gets. With everything configured and automated in one platform – and seamless integrated with MYOB Advanced, MYOB Exo & Employment Hero.
Greater accuracy
With electronic timesheets and rostering, as well as smart biometric attendance and clocking devices like fingerprint and GPS attendance, our smart software eliminates human error.
Local, friendly support
Need training or troubleshooting? Wageloch are here to help. Get support in real time, anytime you need a hand – and far beyond your first payroll cycle.
Interested in learning more or looking for a demo of the solution?
Get in touch with Momentum on enquiries@momentumss.com.au or phone (07) 5479 1877 and we will organise a personalised demo for you.