Connec Ready for Market Leadership
Ambitious technology company Connec Operations is using MYOB Advanced Business and MYOB Advanced Payroll to set itself up for volume manufacturing, sales growth and commercial success.
A single source of truth, automated inventory processes, real-time reporting
Tracking R&D gives the company visibility of project costs – and any significant variations.
Set up to scale: the powerful system has room to grow with Connec Operations.
Established in 2014, Connec Operations' main objective was redefining the design and manufacture of medium voltage cable connectors. It has achieved that and was first to market with a plastic, modular alternative to the notoriously heavy metal offering that now incorporates single-mode fibre-optics through the connector.
Today, Connec manufactures a range of innovative ANZEx and IECEx certified products that are the lightest, safest and most economically efficient in the world. With offices in Brisbane, Sydney and Newcastle, the Australian company is dedicated to innovation, research and development, and will be expanding its range of products for many years to come.
With MYOB Advanced Business, the company replaced the Excel spreadsheets in favour of a powerful ERP system that will scale with it as it pursues its growth goals.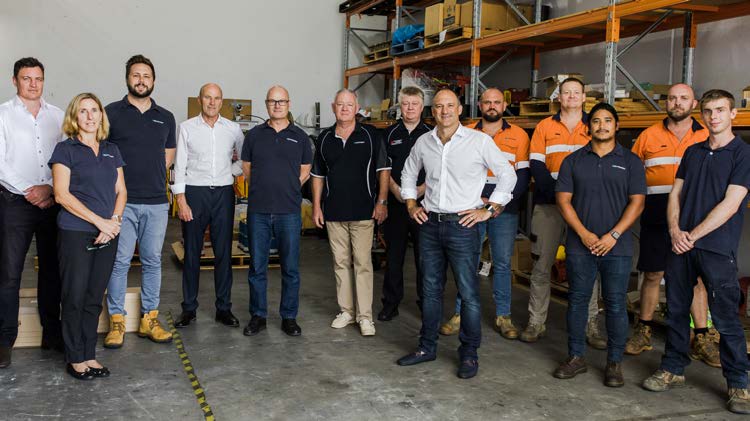 MYOB Advanced Business "could do exactly what we wanted"
Originally a start-up, Connec didn't have an incumbent system it wanted to replace. As bookkeeper Sarolta Albert explains, "The whole company was run on Excel spreadsheets and Xero. While that setup had served it well in the beginning, it became cumbersome.
"We were worried our Excel system was going to get too big and collapse."
When it came time to implement a new system, Connec considered several options within the company's budget, with two key criteria in mind.
Firstly, integration of both financial and operational processes. Secondly, inventory tracking capabilities to help streamline manufacturing compliance under ISO9001. MYOB Advanced Business could do all that – and more.
"I looked around and lots of systems were either too big or too small or required lots of add-on packages. MYOB Advanced Business was the right size for the mid-market, at a reasonable price and could do exactly what we wanted to do"
Connec implemented MYOB Advanced Business with MYOB Platinum Partner, Momentum Software Solutions. Managing Director at Momentum, Alistair Emery notes, "Our consulting team worked with Connec to implement MYOB Advanced including the Manufacturing Module. Key deliverables were the management of the end-to-end production process with full traceability (Serial/ Batch Tracking) of both Finished Goods and Raw Materials. Production is integrated with Distribution and Financials. The implementation was successful thanks to the commitment of the Connec team to the project, and Momentum's expertise and thorough implementation methodology. There is ample opportunity for future growth and enhancement as Connec become more confident with the MYOB Advanced Platform".
A single source of inventory truth
Before MYOB Advanced Business, Connec required regular stocktakes just to update the balance sheet, a time-consuming task.
Using spreadsheets to track inventory made it hard to keep on top of the latest version and relied heavily on manual data entry.
Now with MYOB Advanced Business, "the stock goes in, and it goes out, and we've got automatic warnings for when stock is running low. Our balance sheets are updated in real-time, which also means our reporting is accurate," a fact that will help propel the business forward.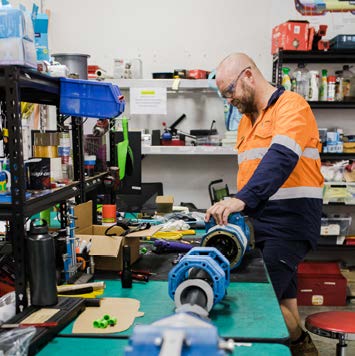 Simple and seamless compliance tracking
As with medical and food supplies, Connec's products have strict compliance regulations that need to be met and recorded for every product batch. The cables are configurable – by material and size – which adds another layer of complexity.
This was previously tracked using Excel spreadsheets, leaving too much room for human error. It's also where a lot of the other systems that were considered failed.
"We wanted a simple approach – we didn't want to have an infinite number of paths for infinite configurations. MYOB Advanced Business makes that processes simple and accounts for all the slight variations in our bill of materials".
R&D will lead to future growth
The business undertakes a lot of R&D work, and with MYOB Advanced Business it has a way of tracking each projects progress and costs.
The ability to track project costs "means we have better visibility of how we're tracking with each project, something we could not do before" and helps support R&D tax incentive claims.
While Connec estimates they "only use a small part of MYOB Advanced Business", the most important thing is the company now has a system that can scale with it as it grows.
"As we develop more products and the orders start to come in, we can process them accurately and timely with MYOB Advanced Business."
Improvements since MYOB Advanced Business
A single source of truth across the company provides numbers in real-time.
Automated inventory processes help reduce stocktakes.
Simple and seamless batch tracking ensures the company meets compliance obligations.
Tracking R&D gives company visibility of project costs – and any potential blowouts.
Set up to scale: powerful system has room to grow with Connec Operations.