If your company services equipment, you need to make the best use of your available resources. A well-designed and properly implemented Field Service Management (FSM) system can provide your business with the tools to modernize your operations, boost your efficiency and develop lasting customer loyalty.
When choosing an FSM system that meets the needs of your company, the following 7 features are critical to look for.
1. Scheduling and Dispatching
FSM can be a juggling act when deploying service resources – people, equipment, parts etc. Client satisfaction is crucial for field service organisations, hence scheduling and dispatching are the key functions of FSM systems. You need a system that can schedule emergency and short-notice appointments, along with regular and previously scheduled service calls.
Scheduling and dispatching functions should be integrated with the repair and maintenance history of each customer, each piece of equipment, as well as inventory tracking. This ensures that the correct parts and equipment are dispatched along with technicians so they can get the job one with no delays.
2. Mobile Technology
Modern field service resource MUST be mobile enabled. This will help field technicians:
Stay on top of changing schedules
Reduce manual data entry
Track dispatching changes
Quickly create accurate reports for billing purposes instantaneous
Easily access equipment information, usage and repair history on site and on the go
View traffic information for the best current route to the next customer site.
3. Installed Equipment Tracking
Tracking installed equipment and its service history makes service operations more efficient and more effective. This information assists in the provisioning of mobile inventory and helps keep a record of maintenance and repair history. The data can be used for analysis, planning and product improvement. Equipment service history is a critical part of Product Lifecycle Management (PLM). Equipment tracking and service history are also important components of preventive and predictive maintenance and for warranty purposes.
4. Inventory Management
One to the things hat separates field service businesses from other service-based businesses is the heavy use of inventory. In field services, tools and repair parts are typically spread across multiple vehicles and warehouse locations and tracking each item efficiently is a necessity.
Your system should help you determine how much inventory to hold and the best locations to store them. This will help provide the best coverage at the lowest cost. Inventory should also be deployed/ relocated in conjunction with scheduling and dispatching, to ensure that service technicians have what they need, where and when they need it to save time and cut costs.
5. Integration with Back-End Systems
Integration with in-house systems like ERP and financial/ accounting eliminates delays and errors from manual data entries. The benefits ae multiplied when mobile device entry from the field is included. Integrated FSM and ERP keeps everyone on the same page by providing company-wide visibility of customer activities. inventory usage and status and equipment performance.
6. Flexible Billing
Your FSM system should enable you to create and process invoices in compliance with all the variations in contracts and relationships you might have with customers.
When running a field service company, you rely on multiple streams of revenue, primarily fee-for-service and service contracts. Each of these requires tracking, management and the ability to handle payments. Managing each of these can be complex. Add to this repairs or maintenance under warranty and the processes for each of these require your people to have the right information at the right time.
7. Analytics
We all want, and frankly need is to be data-driven in today's world in order to succeed. Built-in reporting features and analytics help you analyse your data, so you can find the trends that'll help you optimize your business. Accurate data helps you analyse how efficiently your scheduling system is working, how long it takes for each technician to complete certain jobs or even your customer service efforts. With a system that does not show real-time and accurate data, businesses can't see how their performance is tracking. Businesses don't have the information they need at their fingertips to make informed decisions, and without this information, businesses can't grow.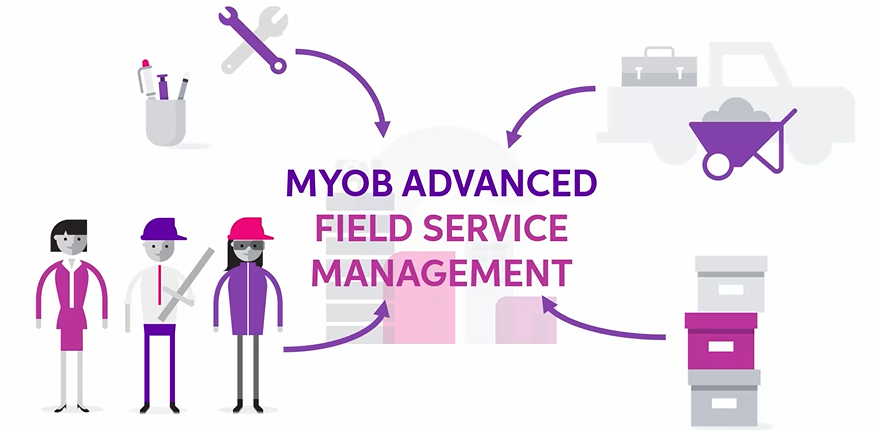 The MYOB Advanced Field Service Management system is a comprehensive and extremely customisable system, making it easy to implement for any type of field service business. MYOB Advanced Field Service Module covers the entire range from quote to contract and billing/ collection (for both contract and individual transactions), scheduling and dispatching, inventory management and deployment, accounting and analysis, and a strong link in the product lifecycle management chain.
Track and manage the maintenance and repair the process from shipment and installation through ultimate disposal, making your Field Service business effective and efficient, pleasing customers and generating a profit.
Click here to learn more about the MYOB Advanced Field Service Management Module.