When starting out it's easy for a company to settle on stand-alone software solutions that fill particular business requirements such as accounting, HR or CRM. But while they may present a suitable short-term solution, what happens to these disparate systems as a company grows?
The more and more stand-alone software solutions a growing business uses the more data silos are formed. This disconnect increases organisational complexity and creates disparate data pools, making it difficult for organisations to generate insight and drive decisions.
An MYOB study conducted by Forrester found 45% of solutions today are siloed or disconnected, leading to poor decision making. These solutions do not meet the needs of modern business, and they instead hamper productivity with poor user experience.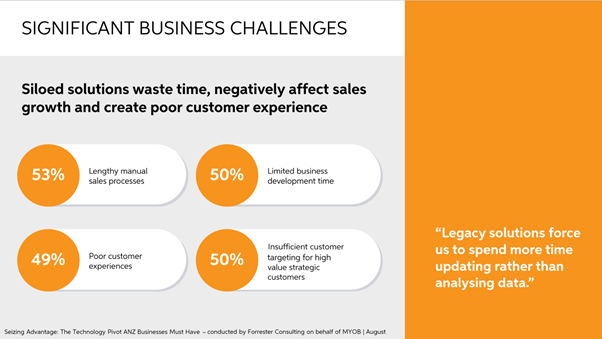 When utilising multiple stand-along software products, employees are often unnecessarily bogged down with manual administrative duties. Double data entry is commonplace as information regularly needs to be keyed into multiple systems, such as accounting and CRM. The potential for error is raised with each data entry process, further exacerbating the problem.
Lack of visibility is also a common issues for businesses with siloed systems. Disconnected software systems are effectively overlapping databases. When duplicated information is found to be inconsistent, countless hours are wasted trying to tie together unrelated, error-riddled or out-of-date information. Not only does this represent an inefficient use of time, but it increases the likelihood of important business decisions being made based on completely inaccurate information.
Unify your business with a cloud ERP solution
Siloed systems can be solved with a cloud-based ERP solution. A cloud ERP solution is business management software that lets your business integrate applications and automate business functions. Typically, a suite of integrated applications, ERP's can be used to collect, store, manage and interpret data from different parts of your business, including sales, finance, HR, payroll, construction, manufacturing and more. It brings all those things together to offer an integrated view of core business processes, in real-time. ERP's centralise all enterprise operations into one consolidated system, removing any operational silos within your business providing one source of the truth.
Are siloed systems holding your business back?
Discover how you can unify your entire business, streamlining processes and enabling complete visibility and collaboration with our cloud ERP solutions here.