When is comes to selecting an Enterprise Resource Planning (ERP) solution, it can be overwhelming as you try to decipher the difference between products, features, prices and more. As you consider your options, one of the most important decisions you'll need to make is whether you choose a cloud ERP solution or on-premise ERP solution.
A cloud-based ERP is by far the most common choice of ERP as business environments turn more digital than ever before. However, there are several reasons why a traditional on-premise ERP system might be best suited for some businesses.
You'll typically find many of the same features between solutions however there are a few notable differences.
Deployment:
The biggest difference between a cloud ERP and on-premise ERP is how they are deployed. Cloud-based software, also known as Software-as-a-Service, is hosted on the vendor's servers and accessed through a web browser.
On-premise software is installed locally on a company's own computers and servers and then managed by your IT staff.
Price:
Another key difference is price. Cloud ERP software is typically priced under a monthly subscription. The straightforward pricing options mean less upfront outlay and allows businesses to better plan and manage their expenses throughout the year.
On-premise ERP systems usually require large upfront and ongoing investments to purchase and manage the software and the related hardware, servers, and facilities necessary to run it.
Security:
Security is often one of the top concerns for prospective ERP buyers and another big difference between cloud ERP and on-premise ERP. Many years ago there was hesitation around the security of cloud software, but as technology has advanced and the world becomes more and more digital many have become less skeptical.
These days cloud vendors have strict security stands in place to ensure your data is safe. These data-centres back-up and store your data in multiple places to make sure nothing gets lost.
With on-premise ERP solutions the security is in your hands. It is therefore the businesses responsibility to safeguard your data and ensure you have the resources in place to host, maintain and protect your data in house.
Remote Accessibility:
Cloud ERPs also allow companies to access information and data whenever and wherever needed, all you need is an internet and a web browser. Full remote accessibility means the ability to access vital reports and data to make sound business decisions no matter where you're working from.
Alternatively, remote accessibility can pose an issue for on-premise ERP solutions. As the software is installed locally, you can only access your data from the office. However, you can take your on-premise ERP to the cloud via a hosting solution using cloud computing. Cloud computing is the practice of using a network of different servers that host, store, manage and process data online – in "the cloud". It enables less reliance on your own IT infrastructure and makes remote access much easier,
Customisation:
Generally, on-premises systems are more customizable than cloud ERP software because they're housed and deployed on a business' servers and are maintained by their own IT staff. System customizations may be essential to companies in niche industries that have highly specialized needs.
Updates:
Cloud ERP software updates and patches are handled by the vendor, and updates are rolled out regularly to ensure that the software is functions properly, remains secure and has updated features. However with on-premise ERP software, updates need to be taken care of in-house and don't run automatically.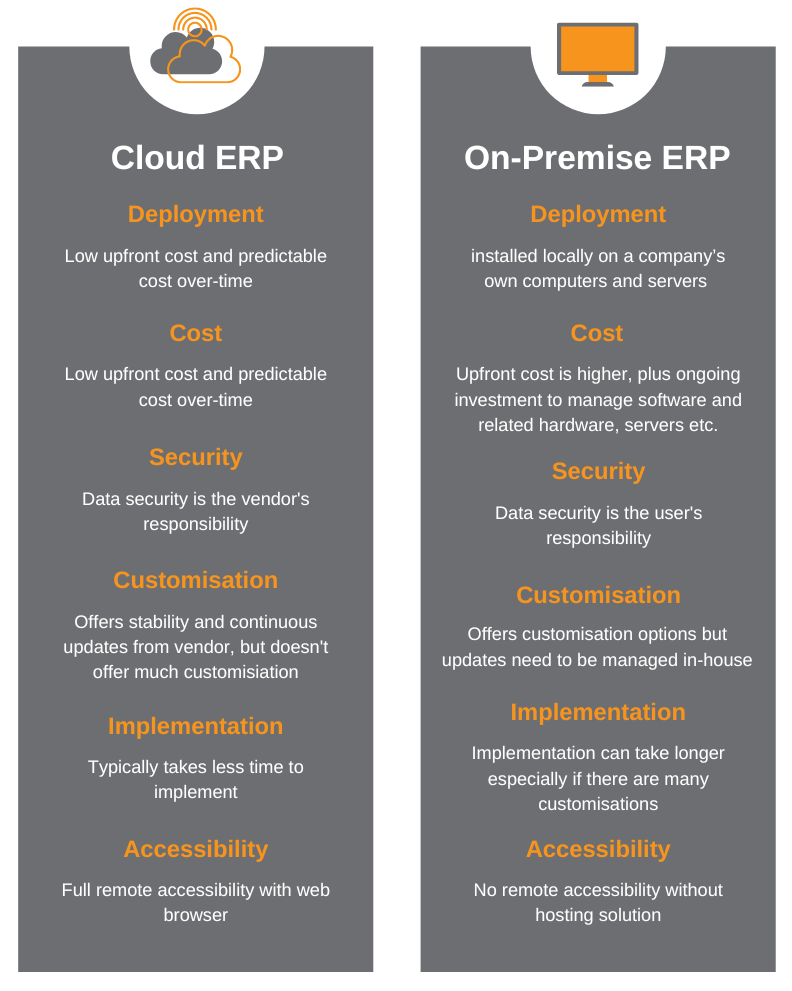 When it comes to choosing a new ERP system, there are more ERP options than ever for businesses of all sizes. Cloud ERP solutions have overall lower upfront costs, regular updates, higher level of agility and accessibility, but may have limitations with customization and control. Conversely, on-premises ERP systems offer advantages in customization and control, but are more expensive upfront, and many don't support mobile accessibility.
Get in contact today to learn more about our ERP solutions.