Momentum Customer Connect
October 2023
Following on from the excellent feedback we received from our events earlier this year. Momentum is thrilled to invite you to our next Customer Connect event this October in Brisbane, or alternatively join us online.
Attending a Momentum Customer Connect is a unique opportunity to engage, learn and connect with other ERP product users who share common interest. Joining us you can expect to:
Deepen your product knowledge
Get the latest product updates
Learn from ERP experts
Hear from a range of guest speakers
Network with other ERP users & our team
If you cannot attend in-person or are located outside of the region you can attend our online event.
Register for free below. We look forward to connecting!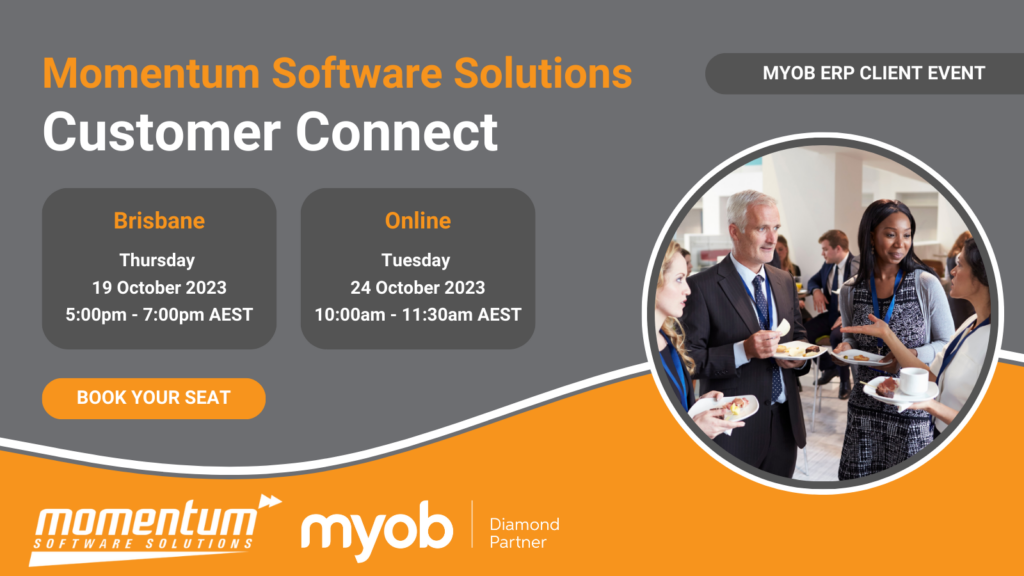 Register now
Book your spot at one of our three Customer Connect events below
Momentum Customer Connect – Brisbane
When: Thursday 19 October 2023 |
5:00pm – 7:00pm AEST
Location: View Brisbane Hotel | Hamilton
Cost: Free
Momentum Customer Connect – Online
When: Tuesday 24 October 2023 |
10:00am – 11:30am AEST
Location: Webinar via Microsoft Teams
Cost: Free