As your business grows, you might find that the way you manage your inventory is no longer as effective as it once was when you first started. As supply and demand increase, finding a workable balance between inventory coming in and inventory going out can be a challenge. Poorly managed inventory control results in a loss of  insight. Tracking where your inventory is, how much you have and what you can currently sell becomes a challenge. These imbalances can either cause undesired holding costs with an oversupply of inventory or alternatively, low stock numbers creates shortage costs with idle employees, plant and equipment under-utilised, loss of sales and more. 
Managing your company's inventory from the time it lands in the warehouse to the time it leaves is vitally important for maintaining low costs and high profits. Initially when starting out, wholesale distributors commonly use traditional, manual systems for inventory management. These systems are designed for simplistic inventory management processes. As your business becomes more successful, there comes a point where simple, traditional inventory management systems are no longer effective for your growing business. Once your inventory becomes more complex, a system that can handle increased complexity is essential to achieve true inventory control.
The answer to true inventory control is within an Enterprise Resource Planning (ERP) solution, MYOB Advanced or MYOB Exo. For wholesale distribution companies an ERP solution provides you with the ability to accurately forecast and oversee your entire inventory management. This means better inventory cost management, improved customer satisfaction, a higher fill rate and increased profitability with less stress and hassle.
Key features and benefits of MYOB Advanced for wholesale include:
Fully featured wholesale and distribution
Balance supply and demand
Multi-warehouse, multi-location
Lot (batch) and serial tracking with expiry
Customer special pricing – prices, discounts, specials, free-items plus more
Plan what you're going to source so you have the right amount of inventory
Pre-and post-sales service to eliminate middleman
Optimise product inventories
Adapt to rapidly changing demands
Improved decision making with up-to-date business information
Plus more!
By effectively projecting your inventory needs several months into the future, increasing your inventory turnover rates and reducing your carrying costs, you will increase your inventory turnover rates and have a firm understanding of your stock value and what you are selling. The wholesale distribution industry and wholesale distribution software are rapidly changing. In these competitive times, old simplistic inventory management systems are only holding you back from where you could be.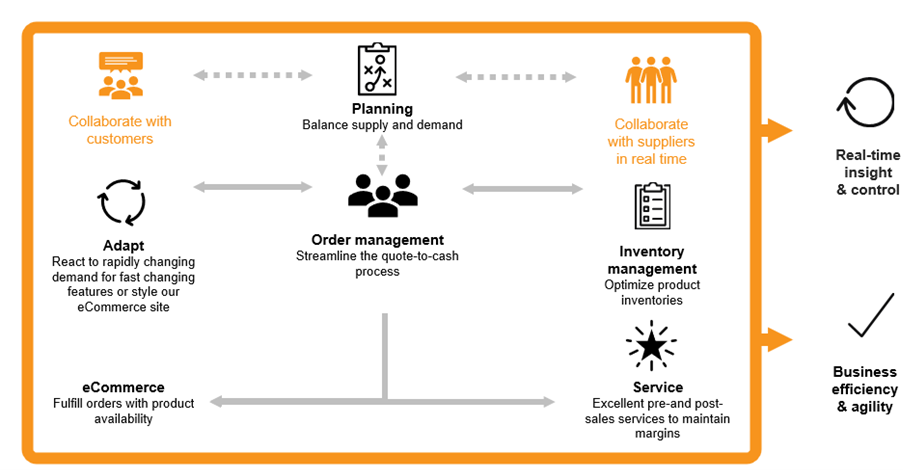 For wholesale distributors, meeting fast changing customer demand for a widening variety of product features and styles is a priority. As depicted in the above image, success in the wholesale industry relies on a careful balance of supply and demand, in order to effectively collaborate with both customers and suppliers. As well as excellent sales order management that is designed to streamline the quote to cash process. An ERP can provide your business with an effective inventory management solution to improve your overall business operations getting real-time insight and control and improving decision making with up-to-date business information.
If you're a wholesale distribution company, an ERP can help you:
Streamline processes to seamlessly move through the sales cycle
Optimise the supply side of distribution operations &
Make better financial decisions
Interested in learning more about how an ERP solution can help you achieve better inventory control? Get in contact with Momentum today for a free no-obligation chat.
Source: Acumatica