As the saying goes, your employees are your greatest asset. A skilled and dedicated workforce is the soul of any organisation. Creating the ultimate workforce starts by ensuring you are putting the right people, in the right place, at the right time.
"If you take care of your employees, they will take care of the clients." – Richard Branson
Investing in workforce management software is a strategic tool for businesses wanting to maximise their employee investment. Workforce Management software enables your business to automate the functions required to manage your workforce and acts a central hub for all workforce management activities. It offers a solution for businesses seeking to adapt to the challenges of an increasingly complex workforce environment.
Typically, workforce management has three main goals:
Maximise the efficiency of your workplace
Manage all legal obligations
Engage and interact with your employees
An effective workforce management solution can help you achieve these three goals, by managing your workforce with optimal performance and lowered labour costs. It allows you to remain competitive, embark on opportunities with fewer resources all while eliminating waste and keeping up with demand.
An automated workforce management solution is also key to better employee experiences. Workforce management software is designed to give your employees control over their work life, while reducing the burden on management and payroll teams. This means fewer mix-ups, less frustration and a better experiences for all employees.
MYOB Advanced Workforce Management
With MYOB's upcoming cloud solution which can be added to MYOB Advanced People, workforce management becomes a breeze. MYOB's workforce management software gives businesses the ability to plan, schedule, track and pay their employees. It allows companies to streamline processes, increase production and reduce costs through improvement management.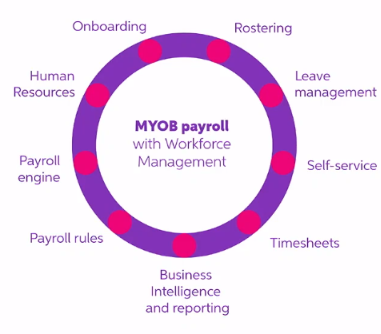 Cloud-based workforce management like MYOB Workforce Management merges company data onto a single platform and allows employees to easily handle self-service processes such as leave requests, access to payslips and more. The solution lets your staff manage all their information in one place, saving time, boosting productivity, eliminating errors and vastly improving the employee experience. MYOB Workforce Management software also allows your business to:
Manage your staff from anywhere, from any device.
Quickly create rosters and automate them based on employee skills.
Onboard new starters quickly and easy through their mobile device.
Ensure all shifts are accurately costed based on budget before it reaches payroll through real-time award compliance.
Approve timesheets though automation and set up approvers for exceptions to streamline approvals.
Manage workforces with teams across multiple locations.
Empower employees with a dedicated mobile app which includes rosters, payslips, leave and time capture.
Keep your team up to date with push notifications to alert them to their upcoming shifts or changes.
Bridging the gap between departments, workforce management software allows HR departments to stay focused on analytics rather then manual, paper-based, time consuming tasks. A workforce management solution is a must for any organisation seeking to:
Streamline processes
Reduce costs through improved accuracy
Improve morale
Increase compliance
Efficiently schedule
Improve overall business performance
Workforce management is a fundamental piece to any organisation. In fact, the benefits of workforce management extend to all aspects of your environment. From accurate reporting for the management team to improving the day-to-day life of your employees and your overall customer experience.
To register your interest in MYOB Workforce Management or to learn more: Click here