In today's digital environment, technology affects every aspect of our day-to-day activities. As consumer demands soar, the expectation of increased adaptability, flexibility and mobility are ever so prominent, especially for businesses.
The accessibly cloud provides is second to none and forward-thinking businesses view the cloud as an opportunity to increase productivity. Cloud ERP's are designed to grow with your business, allowing you to add new features or users without the hassle of maintaining or replacing on-premise hardware. The cloud offers a long-term solution as your company evolves.
Cloud ERPs also allow companies to access information and data whenever and wherever needed. Migrating processes to the cloud enables businesses to be flexible and adaptable to change. This means the ability to access vital reports and data to make sound business decisions no matter where you're working from. It also means they can provide improved, efficient customer service and remain competitive.
So why do we see businesses continue to avoid making the change to become more adaptable, flexible, and mobile?
Many organisations are adverse to any type of change, reluctant to make investments that can transform their business. The decision to not implement a cloud ERP can make the business unable to adapt to a changing environment and therefore impedes growth and profitability. This ultimately leads to a continued strain on resources and reduced flexibility in the future.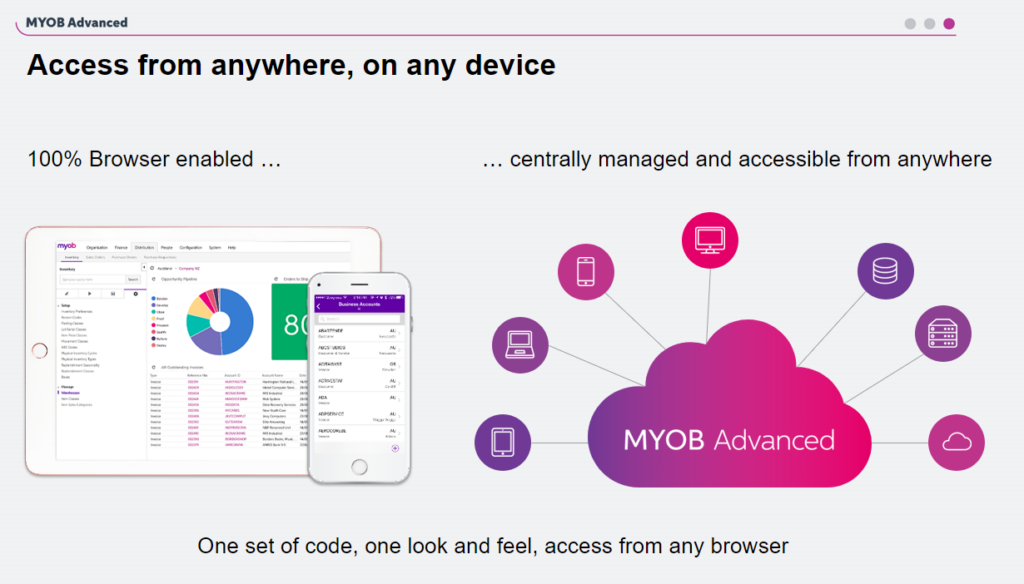 MYOB's cloud ERP solution, MYOB Advanced enables businesses to become mobile and grow with the developing digital workspace. Mobility is vital to remain competitive and is an important factor for this generation entering the workforce. MYOB Advanced is a true online system designed to help businesses be more flexible by working in the cloud. It is software that increases work efficiencies and makes your company more mobile than ever before. Working from any device, all you need is a web browser and internet connection to access real-time information, wherever and whenever you want.
Cloud ERPs deliver an adaptable, flexible and mobile solution for businesses. In the fast paced digital environment, access to data and results on demand is a must. The ability to scale your growth, along with the speed and security you receive when you implement a cloud ERP solution is a game changing move more and more businesses are choosing to invest in.  
If your business is interested in learning more about the benefits of cloud ERP get in contact with us today here or call us on (07) 5479 1877.
Source: Acumatica