When first starting out, business decisions are often based on cost, which makes accounting software a fitting solution. Accounting software provides basic accounting functionality which is generally suitable for sole traders or small businesses. Because of its reduced functionality and features, simple accounting packages are easy to use and are offered at an affordable, appealing price. The downside? A successful small business will outgrow basic accounting software very quickly.
As a business grows in size and complexity, accounting software like Xero or MYOB AccountRight can no longer support operations to a satisfactory level. Accounting software lacks the complexity to manage larger business processes and requirements. This results in growing businesses having to rely on manual processes and spreadsheets outside of its accounting package. Consequently, many mid-sized businesses come to a stage where processes are complex, challenging to manage and will start to consider the transition to a more sophisticated and better equipped ERP solution like MYOB Advanced.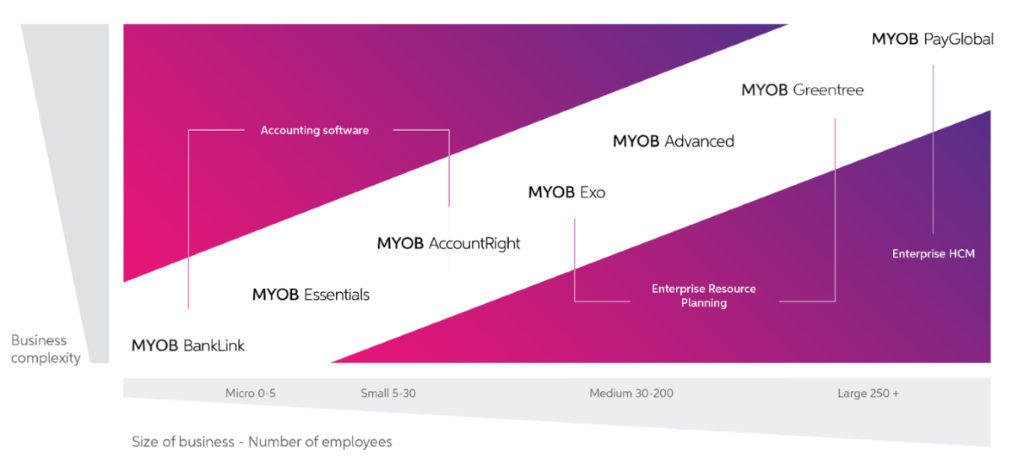 MYOB Advanced is a cloud-based ERP solution tailored to mid-sized organisations. The fully customisable MYOB Advanced platform is designed to meet your current business requirements while being flexible enough to meet future demands. It connects every part of your business to deliver an end-to-end business management solution that gives you a unified view across all aspects of your business.
While accounting software provides the adequate capabilities that many small businesses require, they are limited in scope and are not configurable. It is an out of the box package that is not designed to grow with you. As a one size fits all solution, accounting software cannot be tailored to meet your unique growing business needs. When compared to a customizable MYOB Advanced solution, accounting software doesn't offer the same level of control, flexibility and precision that many growing mid-sized businesses require.
Key features of Accounting Software
Basic accounting functionality
Payroll and timesheets
Invoicing
Tax and GST
Reports and budgets
Bills and expenses
Inventory
Bank reconciliation
Multi-currency
Key features of MYOB Advanced
Sophisticated Financial Management
Customer Relationship Management (CRM)
Inventory Management
Supply Chain Management & Distribution
Manufacturing Management
Comprehensive Project Accounting
Business Intelligence & Reporting
Purchase Order Management
Job and Project Cost Management
Intercompany Reporting
Mobile Workforce Application
Payroll Management, plus more!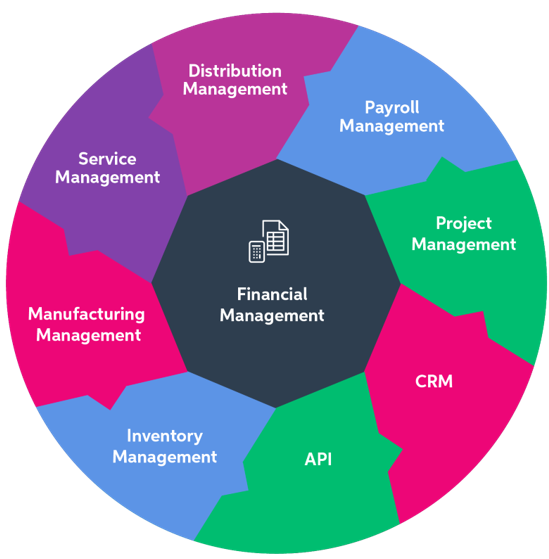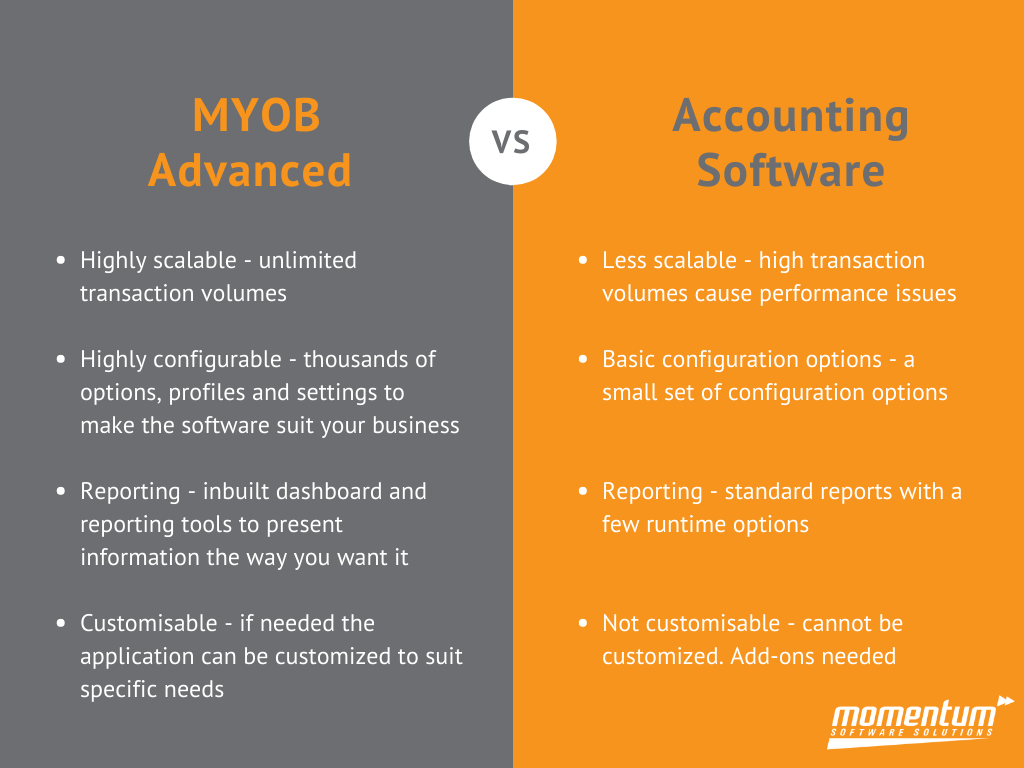 A brief comparison between MYOB Advanced vs Accounting Software highlights the vast functionality and feature differences between the two solutions. As your business grows, so does its complexity and the need to invest in more capable business management software. In a majority of cases a growing business is often restrained or held back by its accounting software. MYOB Advanced allows businesses to be agile and grow to their full potential which is a key reason why mid-sized businesses are choosing to move to a cloud ERP solution. MYOB Advanced is perfect for mid-sized companies that have outgrown their off-the-shelf accounting software and are looking to thrive not just survive.
Has your business outgrown its current accounting software? Get in touch with us today.