Even though your inventory control is near-perfect in MYOB Exo or MYOB Advanced, do you still have inventory that never sells, and constantly stock out of your top-sellers?
Feel like you are spending all your time and energy on inventory gathering dust?
Make better inventory decisions with NETSTOCK's intuitive, cloud-based inventory management software. The core NETSTOCK team has been leading the development of inventory optimization since the late 1980s. Their solution delivers inventory optimization for fewer stock-outs, less excess inventory and smarter ordering.
Small and medium-sized businesses can face numerous challenges, however, they usually don't have the correct tools to solve these problems. Most commonly, these businesses suffer from:
Inefficient ordering processes
Stock-outs
Costly excess inventory
NETSTOCK provides a solution to these common stumbling blocks, giving you visibility into your inventory that you've never had before.
Place orders quicker and save time on planning, forecasting and ordering
Minimise stockouts whilst retaining your customers and increasing your sales
Reduce excess stock and release cash that is tied up in excess
NETSTOCK Features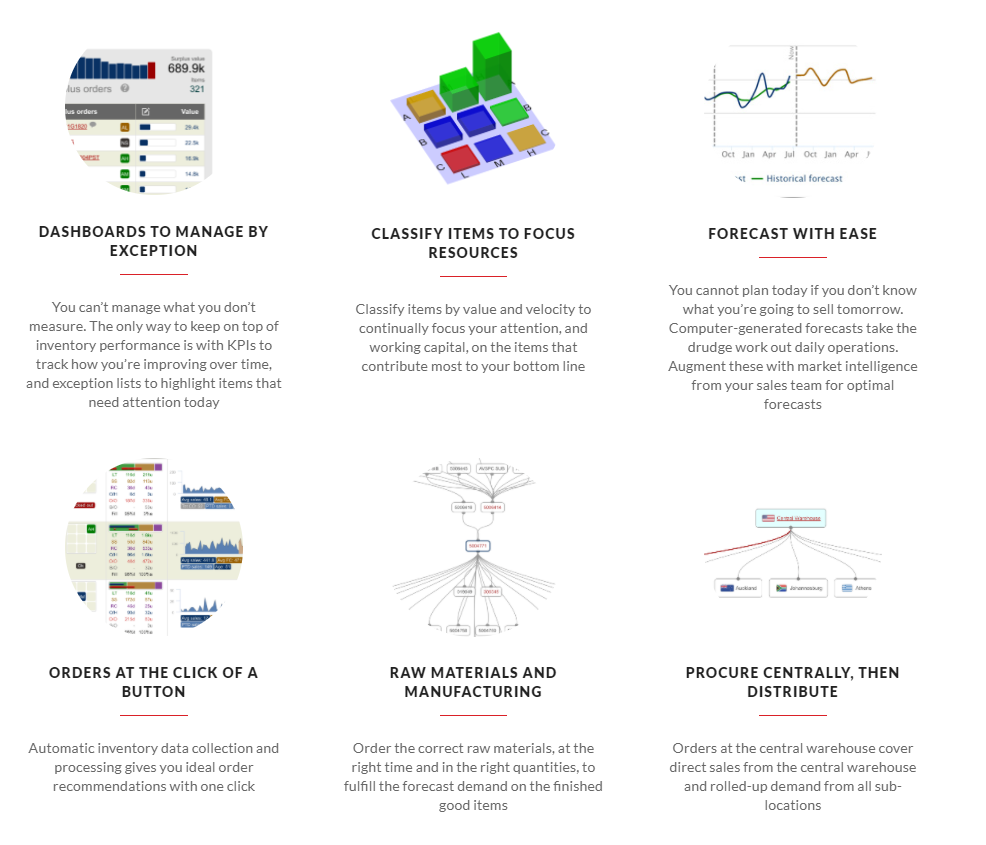 So how does NETSTOCK do it?
More efficient ordering
With the click of a button, NETSTOCK will recommend an order quantity for all products from a supplier that need to be ordered today. The order schedule provides sufficient detail for a quick review of the order recommendation, with drill-through to must more detail. As changes are made to the recommended order quantities, the order summary provides instant feedback on total order value, order units, volumetrics and weight. Once the order review is complete, click the Download button to send the purchase order directly to your ERP. No more order capture mistakes. More efficient and accurate!
Minimise stock-outs
The dashboards KPI tracks your service level, stock-outs. Now you can monitor whether the actions that you are taking are having an ongoing positive impact on your business.
Reduce excess inventory
The dashboard KPI tracks your inventory value, level of excess stock and surplus orders (where you currently have too much on order). The exception lists highlight the worst offenders in each category, enabling you to focus on those items that are having the biggest impact on your business.
NETSTOCK gives you the diagnostic, forecasting and management tools you need to optimise your inventory and capital investments. Reduce excess inventory and prevent stock-outs.
To find out how NETSTOCK can help manage your inventory better, reduce your costs and grow your business: Click here