The MYOB Advanced manufacturing edition is a cloud-based Enterprise Resource Planning (ERP) system specifically designed for manufacturing companies. This ERP software integrates manufacturing, inventory management and accounting, to help businesses ensure raw materials are available for production, the manufacturing process is effectively managed while, maintaining revisions, and tracking the financials.
Established to meet the specific needs of the Australian manufacturing industry, companies can now effectively have a 360-degree view and control of their entire manufacturing operations in one accurate, up-to-date system. The MYOB Advanced manufacturing edition integrates and streamlines business processes, generating accurate pricing, and calculating your total manufacturing costs.
The manufacturing edition supports numerous markets including: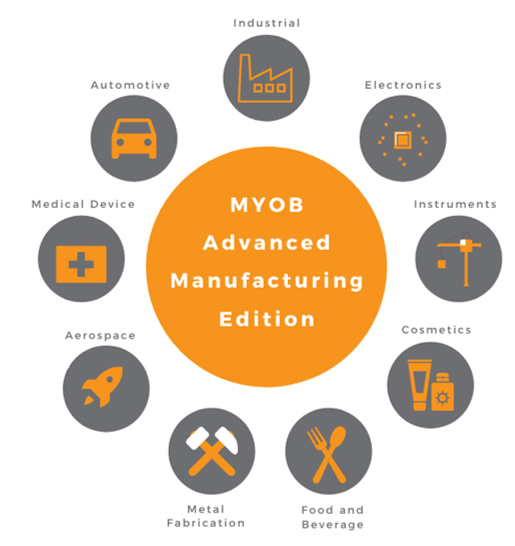 It additionally delivers powerful and comprehensive functionality supporting various manufacturing types including:
make-to-stock
make-to-order
engineer-to-order
project centric
job shop
batch and,
repetitive
The powers of cloud ERP software allows you and your staff to work from anywhere, anytime, accessing critical business management functions to support operational continuity and business resilience. It allows for flexible business processes to plan and control your manufacturing operations, including supply and demand planning, production scheduling and more.
The MYOB Advanced manufacturing edition boasts a range of key features all designed to integrate and streamline your manufacturing processes. Some comprise of:
Full featured manufacturing and MRP solution
Bill of materials with revision control
Cost of materials, labour, machines, tools and overheads
Outing of production through different work centres
Productions planning and scheduling
MRP/ purchasing/ transfers/ sub-assemblies
Job cards/ production tickets
Estimating and product configurator for custom products
Engineering change order
Shop floor data collection
Advanced planning and scheduling – finite capacity planning/ scheduling
There is an extraordinary list of benefits the MYOB Advanced manufacturing edition can provide manufacturing companies. Effectively coordinate and plan activities across your business with real-time updates from one central system. Respond to demand and market changes while optimizing inventory and resources for effectiveness and cost control. Reduce complexities around product management and be able to track designing/ assembling activities. Plus improve collaboration with timely and accurate information.
MYOB Advanced is a complete end-to-end business management system that is transforming the way larger businesses work. With power, flexibility and scalability it is designed to grow with your business.
If your business is interested in learning more about the capabilities of MYOB Advanced and the MYOB Advanced manufacturing edition. Get in contact with us today for a free no-obligation chat.