At the end of 2022, MYOB completed a research study, conducted by Dynata, looking at digitalisation in the mid-market. In total 1029 mid-market business leaders in Australia and New Zealand took part in the survey. 
The research conducted by business management platform, MYOB found local mid-market business are seeing real benefits from their investments in business management software and applications. However, the study highlighted that despite the rise of digitisation in recent years, outmoded, siloed and ineffective systems are costing local businesses valuable time and resources.
Nearly half (48%) of Australian mid-sized businesses and 46% of New Zealand mid-sized businesses say they are wasting valuable time inputting data into different systems. 43% of Australian mid-sized businesses and 46% of New Zealand mid-sized businesses are having to regularly check between systems to ensure data is correct. 41% of Australian mid-sized businesses say they are sometimes duplicating efforts between their business systems.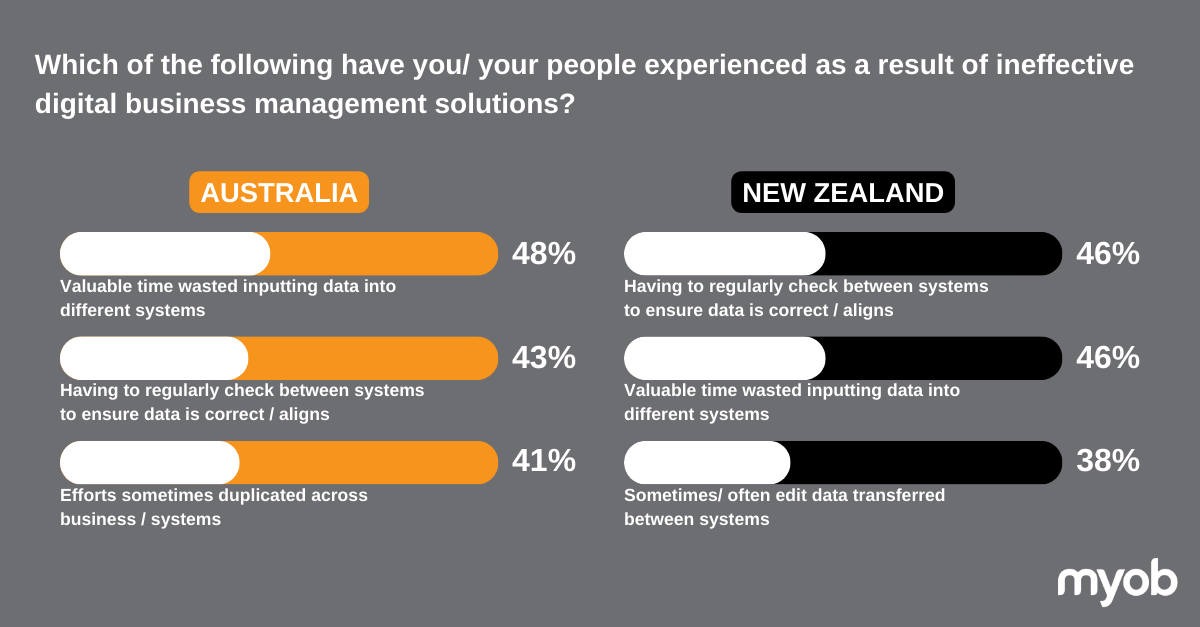 In Australia nearly half (49%) of respondents indicated instead of their team completing manual tasks due to inefficient solutions, they would rather their team spend time on targeting new customers/ audiences, strategy and business planning (40%) and training/upskilling existing team members (37%).


According to the survey, however, for those that have added to or changed their digital solutions over the past 12 months – the value of the benefits gained when implemented strategically, are significant.
In Australia, these mid-market businesses reported improvements in efficiency and productivity (48%), the ability to service more customers (39%) and stronger/more informed decision-making (34%). In New Zealand, key benefits reported for this group include increased efficiency and productivity of teams (45%), more time to focus on business strategy and growth (44%) and improved competitiveness in target markets.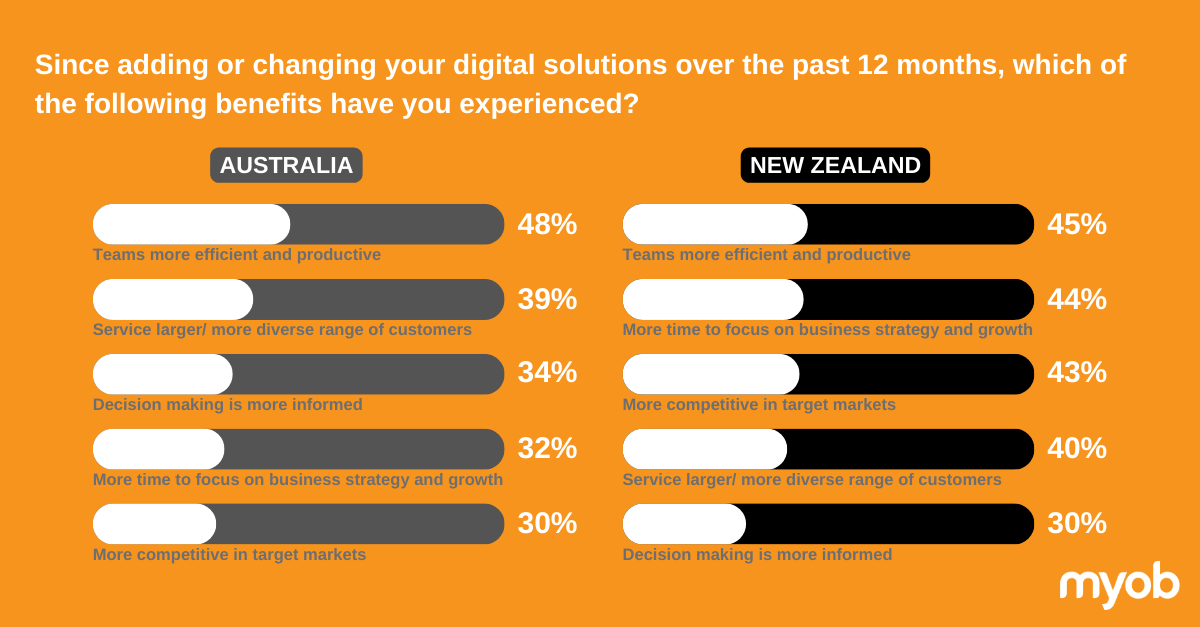 When analysing which of the following technologies did business leaders expect to most significantly change their business in the next five years, it's clear digitalisation is top of focus. 39% of Australian and 44% of New Zealand mid-sized businesses recognise big data as being the top technology to change their business in the next five years. In Australia, cloud computing (37%) and improvements in connectivity (35%) followed closely behind. In New Zealand, digital sales platforms (44%) and automation and robotics (37%) were key technology changes of focus.
Overall, the MYOB study highlights the significant advantages business management platforms have in the mid-market. Research shows that siloed, ineffective solutions are causing problems for business in terms of lost investment and business opportunities. Data proves more and more businesses are choosing to digitalise their business management systems, to remain competitive and become more efficient for the future.