Making sure you have everything you need on hand- whether it's raw materials, production capacity or sufficient labour is key to running an efficient, balanced and flexible manufacturing business. MYOB's Material Requirement Planning module or MRP as a part of the MYOB Advanced Manufacturing Edition is a powerful planning tool that enables manufacturers to satisfy demand while maintaining optimal inventory levels.
Planning is the essential core of the Advanced Manufacturing Edition system. MRP can play a vital role in ensuring you have the right quantity of materials on hand and are able to meet the production needs of your customers. It allows you to keep up with demand without having to spend hours manually working out what is needed in order to fulfil your commitments.
With MYOB's sophisticated manufacturing software you can generate time-phased manufacturing and purchasing plans for optimal inventory availability, tied to forecast and customer demand. This means you can reduce inventory while improving customer service and avoiding shortages.
Key benefits of MRP in MYOB Advanced:
Coordinate activities
Manage your entire business with complete real-time information on your operations
Coordinate labour, machines and inventory and optimise them for your company's processes
Stay on one platform as you grow
Adapt the software to meet your changing needs
Leverage powerful features and functions for multiple production environments
MRP exception messages handle problems with ease
Shows the planner recommendations to defer, expedite, and delete supply items
Identify late orders and display any transfers that are available from another warehouse or site
MYOB's MRP module calculates it's supply plan based on a number of sources of demand including:
Forecasts
Master Production Schedule (MPS)
Existing sales orders & production orders
Reorder point
Safety stock
Lead time is also factored in to ensure a just-in-time plan based on your specific supply and demand requirements. Lead time is considered for just-in-time inventory management helping you keep your facility lean.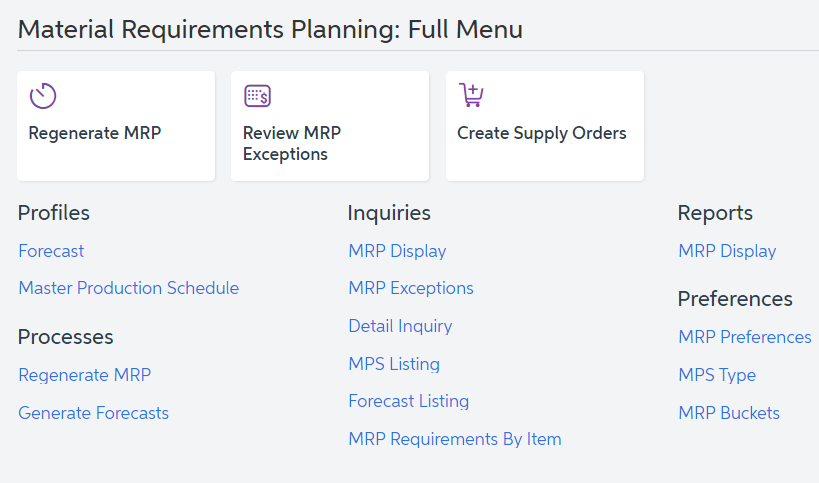 Within MYOB Advanced inventory module you can maintain your finished goods, sub-assemblies and component parts and determine if those items should be factored into your MRP supply plan calculation or not. The MRP module allows you to manage supply and demand in one centralised location, to view supply suggestions and generate suggested replenishment, based on multiple sources of system demand. The system also allows you to manage materials requirements across multiple warehouses and locations.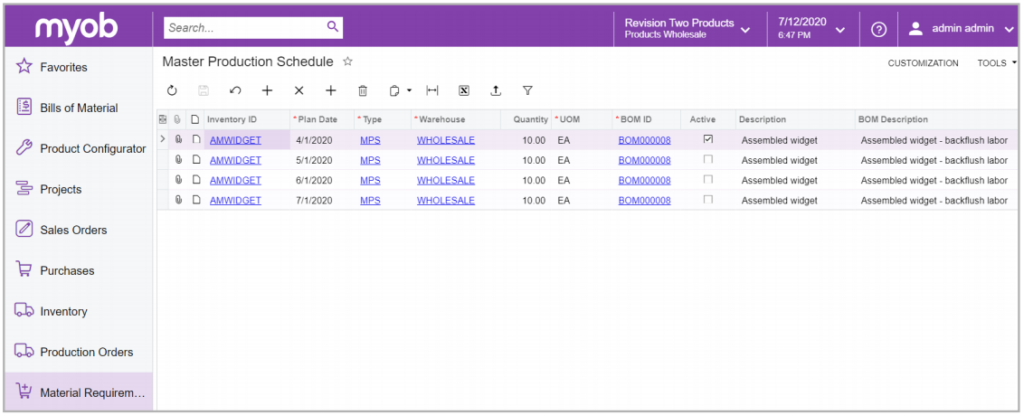 The MRP has various core features and capabilities including:
Forecasting
Forecasts can be calculated or entered manually. These forecasts can be dependent and consumed by sales order, or they can be independent. Input forecasts as one-time, weekly, monthly or yearly.
MRP Detail
Review and execute the complete material plan through MRP screens that show all activity, orders, requirements, balances and recommendation for an inventory item.
Bucketless System
Enhance your manufacturing resource planning by planning every requirement for every item MYOB Advanced MRP does not ignore by grouping requirements together.
Multi-Site Planning
Controls whether MRP will plan requirements by site or by a combination of sites.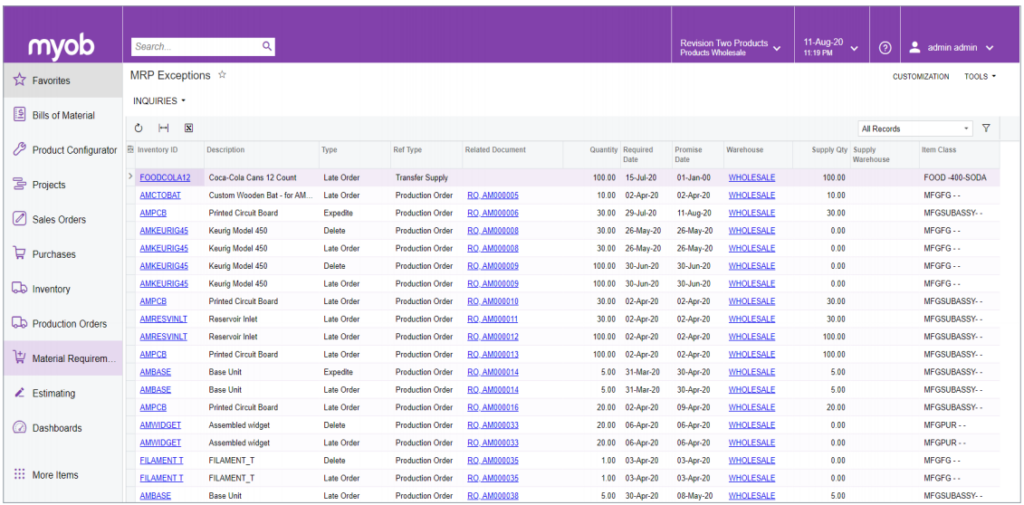 At Momentum we have very happy MYOB Advanced Manufacturing customer in the following industries:
Food production
Dairy
Farming
Mechanical or Industrial engineering
Building materials
Chemicals
Transportation, Trucking, Railroad
Health, Wellness & Fitness
Eagar to see how it works? Get in contact with us today or visit our website here for more information.