The rapid adoption and development of cloud technology has influenced more and more businesses to invest in the move to the cloud. The cloud allows businesses to operate remotely providing you with the ability to manage your operations anywhere, anytime.
For smaller businesses, the move to the cloud is relatively simple. For larger more complex businesses, the transition is a little more complicated, as existing data may be stored across multiple platforms. When considering moving MYOB EXO to the cloud, it can be difficult to establish your smartest path in order to take full advantage of the benefits.
Here are some pathways you may consider:
Connect remotely
Exposing your EXO on-premises environment to users not in your office can now be achieved using remote desktop services. Faster internet speeds have made connecting via a 'Remote Desktop Protocol' (RDP) session a viable option for smaller companies. RDP is a secure network communications protocol from Microsoft RDP, designed for remote management, remote access to virtual desktops, applications and an RDP terminal server. Keep in mind there can be licensing costs associated with RDP connectivity which can limit the number of individual and concurrent users.
A Terminal Server
For larger companies, RDP sessions may be too slow because of the large volume of data being constantly transmitted. A terminal server instead processes the data at the server level, and only the results get transmitted via the connection. Terminal servers enable businesses to centrally host applications and resources, and publish them to remote client devices, regardless of the location and platform of the end-user device. A Virtual Private Network (VPN) is still recommended with a terminal server, to ensure security of your sensitive data.
Hosted Environment
Take MYOB Exo to the cloud via a hosting solution using cloud computing. Cloud computing is the practice of using a network of different servers that host, store, manage and process data online – in "the cloud". It enables less reliance on your own IT infrastructure and makes remote access much easier, enabling your business to focus more on your core competencies and goals. Many IT providers offer hosting options. Momentum partners with Secure-ISS to provide a hosting environment for MYOB EXO.
MYOB Advanced
Today, a common pathway for many businesses using MYOB EXO, are choosing to embrace cloud technology, is by moving to MYOB Advanced.
MYOB Advanced takes full advantage of modern technology with less cost, complexity and more flexibility, than traditional on-premise deployments. MYOB Advanced allows you to keep your finger on your businesses day to day performance and provides the insights you need to make informed decisions based on accurate, real-time data.
With 24/7 access anywhere, anytime to a 'single source of the truth' it provides businesses with the resources to make proactive business decisions and maintain business continuity.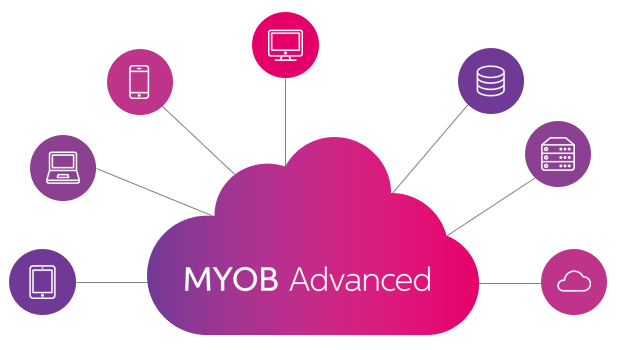 Benefits of cloud ERP MYOB Advanced:
Improved user access: Users have anytime, anywhere, any device access around the globe via an internet connection
Real-time, consistent visibility: All users access and input data into a centralizes data store, which puts consistent, updated information at everyone's fingertips
Flexibility: You can easily scale resources up and down as needed without making a major investment decision
Stay current: Updates are part of the cloud ERP service contract, which makes it easier to take advantage of new capabilities
More responsive service and support: Cloud vendors provide more detailed information about service levels and they are more motivated to provide better support in order to retain your subscriptions.
Faster time-to-solution value: When using public cloud models, you don't have to buy and deploy infrastructure, so you can be up and running with cloud ERP more quickly.
Minimized financial risks: You can reduce upfront capital spending on technology infrastructure, so you can be up and running with cloud ERP more quickly.
Economies of scale: Vendors can deploy, manage and run the cloud ERP solution, so you don't have to. You can focus more of your employees on growth and profit initiatives.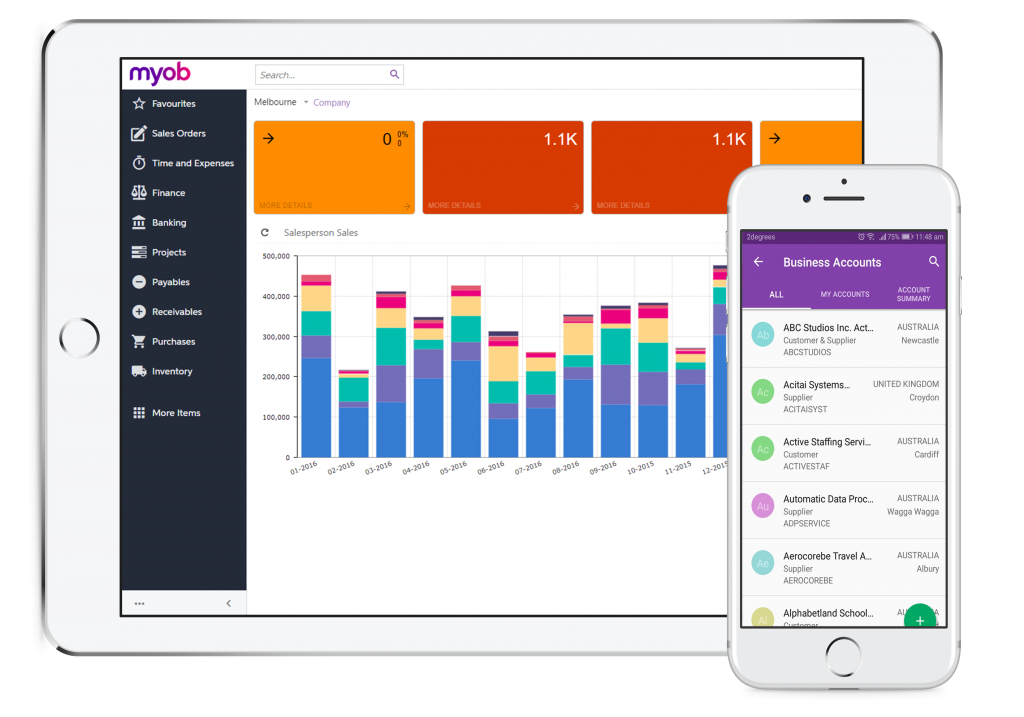 Moving to MYOB Advanced involves implementing a new ERP solution and therefore would start with a full review of your current and future ERP software needs. For more information about the capabilities of MYOB Advanced click here.
Looking to move to the cloud? Get in touch with us today to discuss your options.