Bringing in new team members is an inevitable result of business growth – and it can be complex. Onboarding involves not just the new employee, but multiple teams across your business. Managing the onboarding process manually can be a great administrative burden to your team and your new employees. Businesses often face an overload of paperwork and onboarding admin. When done manually, all these procedures can be overwhelming for all parties. The more steps there are, the more likely for human error.
There is also no escaping the fact the way you welcome new staff to your team has an essential part to play in their engagement and performance over the longer term. You don't get a second chance to make a good first impression. The onboarding process sets the tone for an employee's ongoing experience with a business and provides key insights into a company's culture.
When you're dealing with a complex, multi-stage, multi-participant onboarding process, automation is essential. Workforce management software has allowed businesses to automate and digitize key elements of their onboarding process. It allows organizations to create a well-organised, stress free and effective onboarding process that adds value.
Automation of your onboarding process can add value in a multitude of ways as it:
Streamlines mundane administrative tasks and reduces errors
Supports candidate onboarding, which helps motivate candidates even before they join your organisation
Digitalizes the paperwork associated with onboarding, consolidating it all to a single application
Ensures compliance by documenting all the onboarding paperwork in a centralised system
Provides employees with all the information they need about your organisation
A seamless onboarding process sets the initial foundation of an employee's experience and motivation going forward and speaks volumes about your organisation. With an effective workforce management software, onboarding can create a stronger employee experience, higher employee engagement, better employee retention, easier talent attraction, strong company culture and overall increased productivity all round.
MYOB Workforce Management software allows you to onboard new employees without managing paper contracts, scans or emails. And you can access real-time status updates. Employees can quickly complete their onboarding steps via any device quickly and easily. HR and Payroll teams have immediate access to onboarded employees with MYOB Advanced People and Workforce Management integration.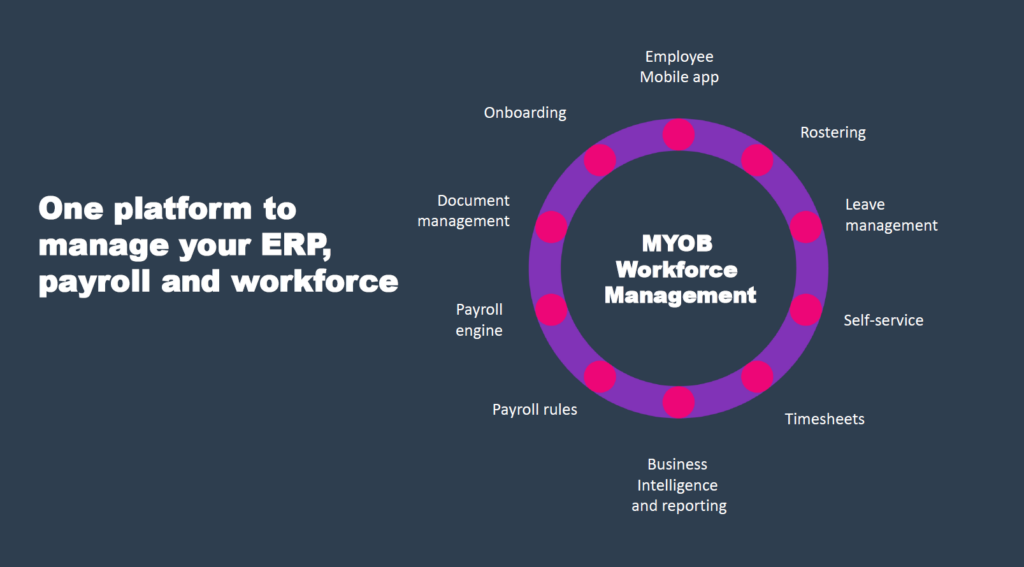 The MYOB Advanced Workforce Management solutions allows you to:
Make job offers and receive signed acceptance digitally, eliminating emails, scans and hard copies.
Integrate with payroll software, including MYOB Advanced People, for an end-to-end solution that ensures new recruits are visible to operations and payroll as soon as HR complete the recruitment.
Give new team members access to their personal details, work information, process instructions and anything else they need to get started.
Watch a brief overview of MYOB Workforce Management Onboarding
Onboarding can be quite complex and time consuming for a busy organisation, particularly if you're hiring new staff frequently. Plan and build your onboarding process with the right tools. Save time by reducing mundane tasks, simplify paperwork, ensure accuracy and compliance as well as create a cohesive and seamless onboarding experience for your new employees with a MYOB Workforce Management solution.
Contact us to learn more or discuss your requirements today.