We are pleased to announce the availability of the native Shopify and BigCommerce connectors in MYOB Advanced.
As a Commerce Enabled ERP, MYOB Advanced users can now integrate their online sales tech with their MYOB Advanced back end.
By adding on MYOB's eCommerce connector, customers using online storefronts such as Shopify and BigCommerce can now incorporate them into their MYOB business management platform, creating a complete eCommerce Enterprise Resource Planning (ERP) solution, which syncs data in real time.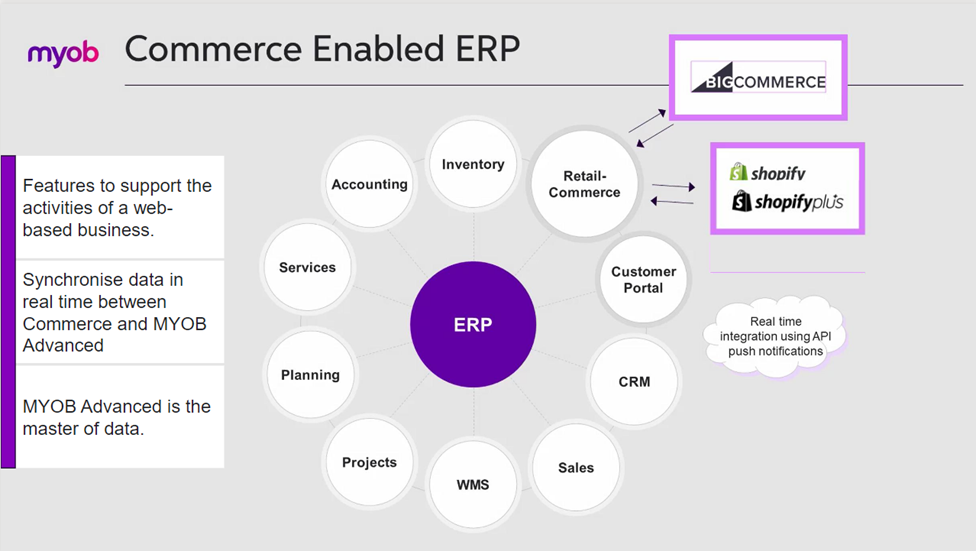 How does MYOB's eCommerce connector work?
Users can click into the eCommerce connector via the MYOB Advanced Business dashboard. Here they can add new products, make changes to product details, change prices and update inventory, and this information will automatically show up in their Shopify or BigCommerce online stores without them needing to check between systems and re-key information These updates can happen manually at the click of a button, or can be scheduled to synchronise regularly.
Likewise, when merchants 'customers make online purchases through their eCommerce storefront, MYOB's eCommerce connector imports customer data, sales orders and payment information.
This seamless data flow enables automated workflows in the back-office: updating inventory, notifying the warehouse, sending shipment information back to the customer and updating company financials. Overall, the integration of eCommerce and ERP creates greater operational efficiency, helping to reduce out customer's back-office workload.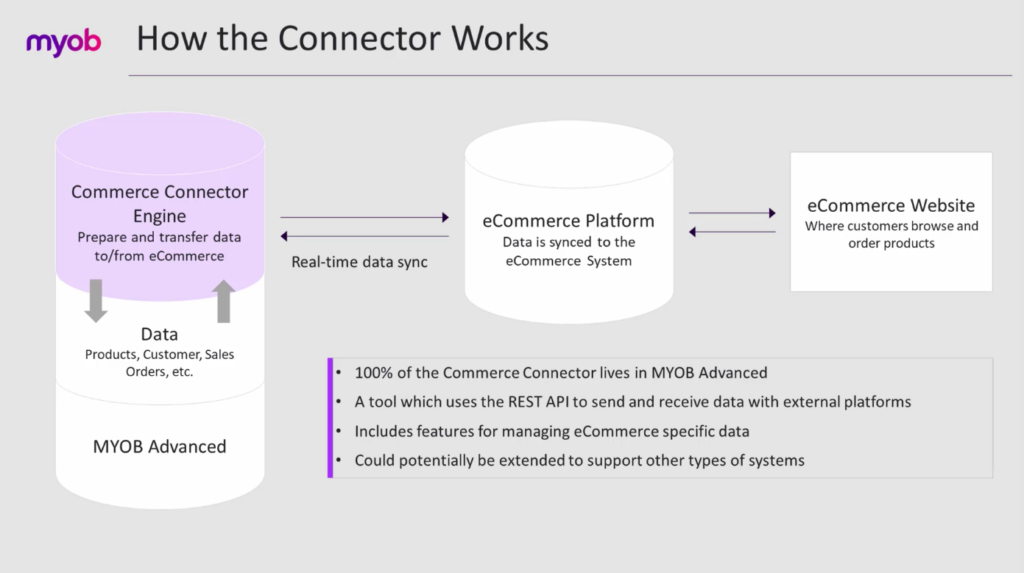 A comprehensive eCommerce ERP solution for MYOB customers delivers the following key benefits:
Increased automation
Increased automation speeds up the fulfillment process, allowing your website to become a B2B sales tool, freeing up staff. By connecting systems, data can flow between the online store and MYOB Advanced Business. This means there's no need for double data entry and checking between systems as there is one set of master data to maintain. As a result, users can automate downstream business processes, which means fast, reliable operations with human error no longer an issue.
Enhanced customer experience
Strong systems integration between the online store and the back-office enables quick sales order fulfillment an efficient return handling so the customer receives their refund, and the merchant can re-sell the product as quickly as possible. Many customers prefer the convenience of buying online and MYOB has opted to partner with Shopify and Big Commerce to enable this capability to MYOB Advanced Business users.
Online storefronts updated automatically
Merchants can easily keep their online shops up to date with new products, revised specifications, price changes and availability by updating one source in their ERP. As a result, at the point of sale the customer has visibility into whether stock is available and when they can expect their purchase to arrive. For business-to-business sales, the integration allows customer-specific pricing and purchases via terms.
Increased visibility across your business
By adding our eCommerce connector to MYOB Advanced Business, you can gain visibility over customer orders that originated both online and offline.
Get in touch to discover how with MYOB Advanced Business, you can connect your Shopify or BigCommerce platform for a complete eCommerce ERP solution, helping you move into online sales or get the most out of your existing online store.