ezyCollect is a debtor management application which systematically manages the process of chasing late payments from customers. It is an all-in-one accounts receivable platform aimed to improve productivity and solve the payment pains holding you back. An add-on to both MYOB EXO and MYOB Advanced, it is designed to give your business more freedom and free up your team to work on the value adding tasks they're capable of/ Its brilliant features allow you to recover cash faster so you can grow your business with confidence.
Automated Collections:
Instantly understand every account's overdue status. Let the automated workflow send helpful payment reminders, schedule your collection calls and thank your customers for paying you.   
Online payments:
Help customers settle their account with Pay Now buttons, 24/7 credit card checkout and B2B Pay Later. Every customer gets a personalized payment portal to view, query and download invoices.
Credit Risk Insights:
Onboard new customers with credit score checks and payment predictions. Your debtor book is analysed daily for how your customers are paying you and the market.
ezyCollect is changing the way businesses manage their accounts receivable with its host of key benefits including:
Automate the manual tasks that slow you down
Eliminate late payments with strict credit control
Deepen customer insights and relationships
Spend less on accounts receivable management
Growing businesses deal with a mass of invoices that must be issued, tracked, attached, received, opened, remembered and paid. Accounts receivable teams spend a lot of time turning buyers into payers. With ezyCollect, routine communications and tasks are automated. Know who you're trading with, diligently engage debtors, communicate with care and provide a convenient payables experience.  
ezyCollect understands that payment is the end-game, therefore they have created the perfect solution that supports the seamless transfer of money from your customers to you. You get a real-time view of open and outstanding invoices and your customers get a simple and transparent checkout experience. Additionally, working capital is improved as you eliminate the costs of late payments and bad debts.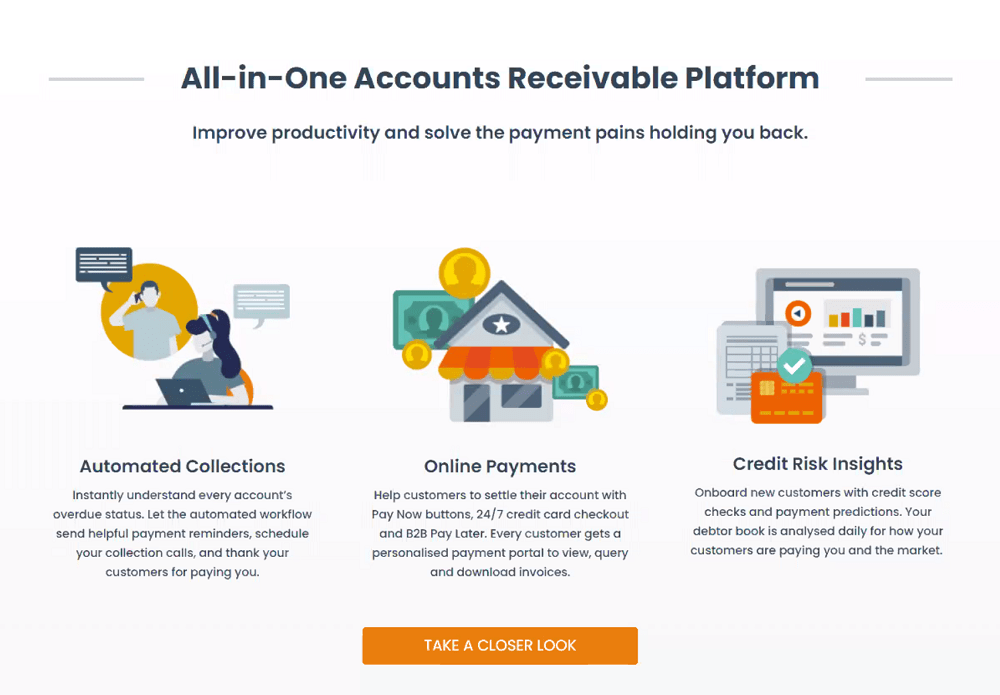 Key features to love include:
Centralized Accounts Receivable
Get the whole picture instantly or drill into every account for a bird's eye view
Automated workflows
Automate reminders by SMS, email and post. Choose your recipients and timing.
Daily-to-dos
Phone calls to be made and ageing accounts are prioritized for you.
Credit Assessment
Use business credit scores and payment predictions to avoid bad debts.
Payment portal
Funnel customers to view, download and pay invoices online or B2B Pay Later.
Debt collection
Send a demand latter or outsource a recovery agency with a single click.
Interested in learning more about ezyCollect? Click here to learn more or get in contact with us here or on (07) 5479 1877.